Aoun won't commit to Franjieh's nomination before knowing his stance on electoral law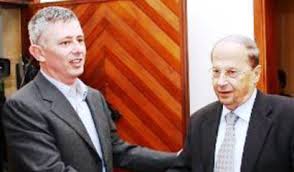 Change and Reform bloc leader MP Michel Aoun has not yet declared his stance regarding the  potential nomination of Marada Movement chief MP Suleiman Franjieh as president before knowing the latter's stance on electoral law  ,  the daily al-Mustaqbal  reported on Saturday.
It said that Aoun, who is also a  presidential candidate wants to receive "guarantees" on the parliamentary electoral law before determining his position on the nomination.
"He is keen to find out what electoral law will be adopted as part of a settlement that is being devised with ending the presidential deadlock."
Aoun's sources told the daily that the MP is dealing with the electoral law issue as a key factor that will determine his future stance regarding Franjieh
Franjieh's visitors meanwhile told al-Mustaqbal that he is "not yet prepared to discuss the electoral law."
"This file is complicated and time is needed to find a consensual electoral law formula," they explained.
Furthermore, they said that "placing conditions on his nomination is tantamount to rejecting his candidacy."
Franjieh has emerged as a potential  presidential candidate in recent days following  talks he had held last week with former PM and Future  Movement chief MP Saad Hariri in Paris, France.
Meanwhile sources revealed  to the Kuwaiti newspaper al Anbaa that the  Franjieh promised   Hariri 2 undertakings:
1- His continued commitment  concerning "the Taif Agreement",
2- His  continued commitment  to maintain the current electoral law the so called 1960 law.
If the Anbaa  report is correct , Aoun could stand in the way of  Franjieh nomination , unless Hezbollah tries to use its influence to pressure him to support it.