Lebanon PM urges presidential vote after new push to find candidate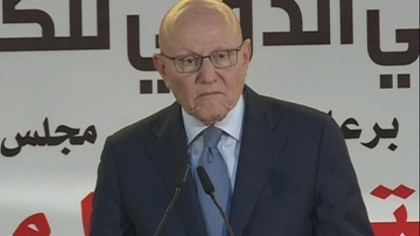 Lebanese Prime Minister Tammam Salam made a new appeal on Friday for the country to choose a president after an ally of Syrian President Bashar al-Assad this week emerged as a strong candidate.
The post has been vacant for 18 months, contributing to a political deadlock that has paralyzed state institutions.
With politicians pushing with renewed urgency for the election of a head of state, local media touted lawmaker Suleiman Franjieh as a candidate.
Franjieh heads the Christian Marada party and has ties with Assad, who is backed by Iran and Lebanese Shi'ite movement Hezbollah.
He is also expected to win the endorsement of Saad al-Hariri, whose Future Movement is backed by Iran's regional rival Saudi Arabia, after the two men met in Paris this week, local media reported.
Two suicide bomb blasts killed 44 people in Beirut on Nov. 12, showing the country remains vulnerable to a spillover of violence from the Syrian civil war across the border.
Prime Minister Salam said condemnation of the bombings from across the political spectrum showed there was "a possibility to build on these positions in order to find the best way out of this political crisis."
Parliamentary speaker Nabih Berri has called at least 30 sessions to elect a new president but, in the absence of a consensus, none has been elected.
The unity government headed by Salam is barely functioning either. It includes both Hezbollah and the Future Movement.
Meetings between rival factions were the best way to "end the state of deadlock," Salam said, quoted by Lebanon's National News Agency.
"We declare our support for any rapprochement or opening between political powers, and confirm that the priority in any discussion or settlement must be to elect a president."
So far rivals Michel Aoun and Samir Geagea have been vying for the presidency but neither has been able to muster the cross-party support required. Aoun is an ally of Hezbollah and Geagea of the Future Movement.
The presidency is reserved for a Maronite Christian according to the country's sectarian power-sharing system.
Reuters