Turkey shoots down Russian fighter jet 'near Syrian border' after 10 warnings – videos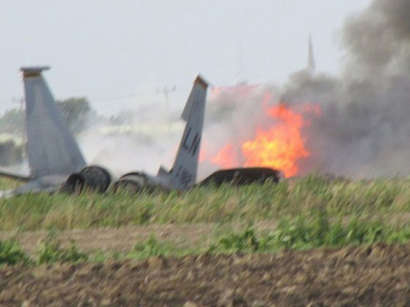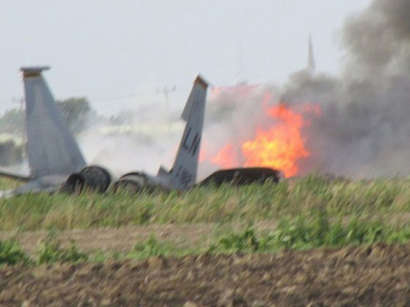 Turkish fighter jets shot down a Russian fighter jet near the Syrian border on Tuesday after repeatedly warning it over air space violations, Turkish officials said, but Moscow said it could prove the jet had not left Syrian air space.
"The Ministry of Defense would like to stress that the plane was over the Syrian territory throughout the flight," Russia's defence ministry said, adding that an investigation was underway.
Russia launched a campaign of air strikes in Syria to bolster President Bashar al-Assad's government in the ongoing civil war in late September.
Russia said the Su-24 was downed by artillery fire, but Turkey claimed that its F-16s fired on the Russian plane after it ignored several warnings.
Speaking to reporters in Moscow on Tuesday, Russian President Vladimir Putin's spokesman called the downing of the Russian Su-24 in Syria a "very serious incident", but said it was too early to draw conclusions. "It is just impossible to say something without having full information," said Putin's spokesman Dmitry Peskov.
Video footage of the incident showed a warplane on fire before crashing into a hill and two crew members apparently parachuting safely. The ministry said the pilots parachuted out, but added that Moscow had no further contact with them.
However, the CNN Turk TV station is reporting that one of the pilots is in the hands of Turkmen (Syrian citizens of Turkish descent) forces in Syria who are searching for the other pilot.
Warning issued?
A Turkish military statement said the plane entered Turkish airspace over town of Yaylidag, in Hatay province. It said the plane was warned 10 times within the space of 5 minutes.
"On Nov. 24, 2015 at around 9.20am, a plane whose nationality is not known violated the Turkish airspace despite several warnings (10 times within five minutes) in the area of Yayladagi, Hatary," the military said before the plane's nationality was confirmed.
"Two F-16 planes on aerial patrol duty in the area intervened against the plane in question in accordance with the rules of engagement at 9.24am."
Turkish President Tayyip Erdogan was briefed by the head of the military, while Prime Minister Ahmet Davutoglu ordered consultations with NATO, the United Nations and related countries, their respective offices said.
The London-based Syrian Observatory for Human Rights monitoring group said the warplane crashed in a mountainous area in the northern countryside of Latakia province, where there had been aerial bombardment earlier and where pro-government forces have been battling insurgents on the ground.
Video appears to show wounded pilot
A video sent to Reuters by a Syrian rebel group on Tuesday appeared to show a Russian pilot immobile and badly wounded on the ground, and an official from the group said he was dead. The official, who declined to be named for security reasons, did not mention a second Russian pilot who was in the plane.
"A Russian pilot," a voice is heard saying on the video, as a group of men gather around him. "God is great," a voice is heard saying.
The video was sent to Reuters by a rebel group operating in the northwestern area of Syria, where groups including the opposition Free Syrian Army are operating but the Islamic State group has no known presence.
Tension between Russia and Turkey

Tensions between Russia and Turkey have been mounting since Russia launched air strikes in Syria in September in a bid to bolster the Assad regime.
Russian fighter jets entered Turkish airspace in two separate incidents in October, prompting Ankara to summon the Russian ambassador twice to protest both violations.
Turkey called this week for a UN Security Council meeting to discuss attacks on Turkmens in neighbouring Syria. Ankara has traditionally expressed solidarity with Syrian Turkmens, who are Syrians of Turkish descent.
The Turkish military in October also shot down a Russian-made drone that had entered its airspace. But Moscow denied the drone belonged to its forces.
Russian Foreign Minister Sergei Lavrov is due to visit Turkey on Wednesday in a bid to smooth ties between the two countries and find a joint approach to finding peace in Syria.
Along with Saudi Arabia and the United States, Turkey and Russia are taking part in talks in Vienna that aim to narrow differences on the Syria conflict and have taken on an extra importance after the Paris attacks.
A Turkish foreign ministry official told AFP Lavrov's visit would go ahead as planned. "There is no change in the programme," said the official.
FRANCE 24 with AFP, AP and REUTERS
This is to remind all our readers to respect the community . Comments that contain personal attacks or inappropriate language will be removed.
For those who are new to this site please note that Ya Libnan is all about fixing Lebanon.
We want our readers to come up with ideas that if implemented will make lebanon a better country.
Ya Libnan is a democratic venue that is open to anyone wishing to contribute any ideas to improve Lebanon. Our only wish is to maintain the civility of the discussions and that is why those who have not been able to abide by this rule have been banned from participating in this forum . We don't want or expect anything from anyone …better lebanon is the only reward we seek. Help us get there!