Lebanon Speaker calls for forming a committee to draft a new electoral law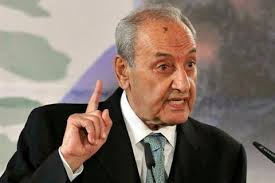 Lebanon Speaker Nabih Berri has called on the Parliament Bureau on Wednesday to form the committee to draft a new electoral law within a two-month period,  March 14 alliance was informed according to a report by  al Joumhouria on Tuesday.
The 10th national dialogue session will be held today at Berri's residence  in Ain el-Tineh, Beirut.
The leader of the phalange party MP Sami Gemayel will not take part in today's dialogue session , as he denounces the failure of the cabinet to convene in the wake of the terror attacks that hit the country.
Today's dialogue session is set to address the cabinet paralysis as it went dysfunctional over the controversial garbage  file, unnamed ministerial sources told An Nahar daily.
Twin suicide bombings   rocked Hezbollah's stronghold of Bourj al-Barajneh south of Beirut on Thursday killing at least 46 people and wounding more than 200. The Islamic State terror organization claimed responsibility for the attack which it blamed on Hezbollah's involvement in Syrian civil war .
Thousands of the Iranian backed Shiite Hezbollah fighters are in Syria fighting alongside the forces loyal to president Bashar al Assad against the mostly Sunni rebels
Geagea pushing for electoral law
Lebanese Forces leader Samir Geagea urged  last Monday that a new electoral law be included on the Parliament agenda last week
"A [new] electoral law has national, constitutional significance," he said. "Very frankly, I say no one [but the LF] wants a new electoral law."
Geagea pleaded with Parliament Speaker Nabih Berri and former Prime Minister Saad Hariri to work toward including the electoral law on the agenda of the Nov. 12-13 legislative sessions.
This is to remind all our readers to respect the community . Comments that contain personal attacks or inappropriate language will be removed.
For those who are new to this site please note that Ya Libnan is all about fixing Lebanon.
We want our readers to come up with ideas that if implemented will make lebanon a better country.
Ya Libnan is a democratic venue that is open to anyone wishing to contribute any ideas to improve Lebanon. Our only wish is to maintain the civility of the discussions and that is why those who have not been able to abide by this rule have been banned from participating in this forum . We don't want or expect anything from anyone …better lebanon is the only reward we seek. Help us get there!