Facebook under fire for using 'Safety Check' in Paris, but not Beirut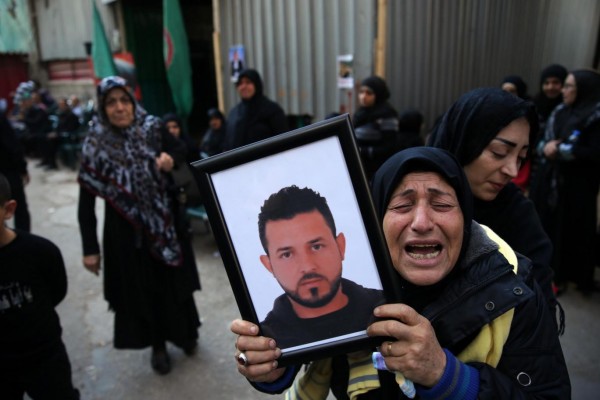 Facebook CEO Mark Zuckerberg has said the social network will seek to open up its 'Safety Check' feature more widely in the wake of disasters.
Facebook Safety Check is designed to allow people to 'check in' and reassure friends and family if they are located in an area affected by a disaster or attack. When the feature is activated, anyone in the area is sent a notification asking if they are "OK". If a person selects 'I'm safe', a notification and news feed post are generated to let friends and family know.
However Facebook was criticised when it enabled the feature after the recent terrorist attacks in Paris, because it did not also do so in Beirut, where at least 43 people were killed in a double suicide bombing on Thursday.
Zuckerberg said that the Paris bombings had been the first event in which Safety Check had been enabled which was not a natural disaster, such as an earthquake. However he said in a post on the site that the service would try to use Safety Check more widely.
"Many people have rightfully asked why we turned on Safety Check for Paris but not for bombings in Beirut and other places," he wrote on his Facebook page.
"Until yesterday, our policy was only to activate Safety Check for natural disasters. We just changed this and now plan to activate Safety Check for more human disasters going forward as well."
"Thank you to everyone who has reached out with questions and concerns about this. You are right that there are many other important conflicts in the world. We care about all people equally, and we will work hard to help people suffering in as many of these situations as we can."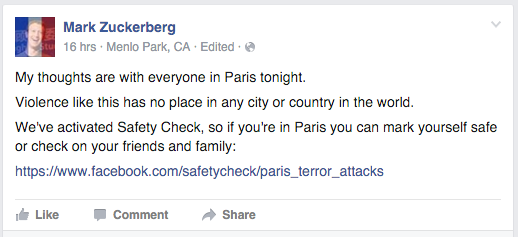 Safety Check was first launched in 2011 after a tsunami and nuclear disaster hit Japan, and has since been used during earthquakes in China, Afghanistan and Chile, and several tropical storms.
Alex Schultz, vice president of growth, said in a separate post that in the past Safety Check had not been used for 'man-made' disasters or "ongoing" wars or epidemics, because it was impossible for anyone to say for sure that they were 'safe' or not. The decision to enable it in Paris was taken because so many were trying to let friends and family know they were safe, he said.
"Communication is critical in moments of crisis, both for the people affected and for those far away who are anxious for news. People already turn to Facebook to check on loved ones and get updates during times like this and we created Safety Check to make these connections even easier," Schultz wrote in a post on the Facebook Safety page.
"We chose to activate Safety Check in Paris because we observed a lot of activity on Facebook as the events were unfolding. In the middle of a complex, uncertain situation affecting many people, Facebook became a place where people were sharing information and looking to understand the condition of their loved ones. We talked with our employees on the ground, who felt that there was still a need that we could fill.
"This activation will change our policy around Safety Check and when we activate it for other serious and tragic incidents in the future. We want this tool to be available whenever and wherever it can help."
Several other services and tech companies provided help and assistance in Paris, including AirBnB, who organised hosts to accept people stranded in the city, and Google, Skype, Verizon and Sprint who all offered free calls to Paris.
WIRED.CO.UK
This is to remind all our readers to respect the community . Comments that contain personal attacks or inappropriate language will be removed.
For those who are new to this site please note that Ya Libnan is all about fixing Lebanon.
We want our readers to come up with ideas that if implemented will make lebanon a better country.
Ya Libnan is a democratic venue that is open to anyone wishing to contribute any ideas to improve Lebanon. Our only wish is to maintain the civility of the discussions and that is why those who have not been able to abide by this rule have been banned from participating in this forum . We don't want or expect anything from anyone …better lebanon is the only reward we seek. Help us get there!