Hezbollah chief: Don't blame the Palestinian camps for Lebanon crimes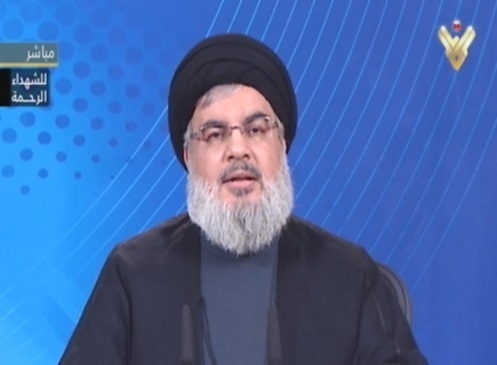 Hezbollah  chief  Hassan Nasrallah  condemned in a televised speech   on the latest developments   the terrorist attacks carried out by the Islamic State  in Paris  and Lebanon and denied any role for the Palestinian Refugee camps in the Beirut   bombings .
"No one can logically blame Palestinian camps for the crimes that are happening." He stressed.
He accused  the Israelis and takfiris  (non believers) of wanting  to spark civil war in Lebanon.
Both the Sunnis and Shiites call each other non believers  .
"One of the goals of the terrorists is to create strife among the Lebanese and Palestinian", he said .
" There are no Palestinians among the detainees linked to the Burj al-Barajneh attack," he added
There were media  reports claiming  that  the  Palestinians were involved in Thursday's attack in Burj al-Barajneh, a souther suburb of Beirut .
At least 43 people were killed in the  twin suicide bombings in Burj al-Barajneh, a Hezbollah stronghold, on Thursday.
The Islamic State claimed responsibility for the attacks
" It is clear the names released by the IS of the alleged names of the attackers are fake. The Burj al-Barajneh attack was carried out by a Syrian and possibly another."  He added but warned against attacking the  Syrian refugees if one of the Burj al-Barajneh bombers was Syrian.
He said : " The Lebanese Internal security forces have a clear idea of the details of the Burj al-Barajneh attack."
He  also  cautioned  against blaming all the Sunnis for the attack.
"No one has the right to hold the entire Sunni sect responsible for the Burj al-Barajneh blast if it turns out that one of the attackers was Sunni.
He said "IS does not have a future, neither in war nor in peace. It is losing ground in Syria and Iraq."
Expressing his solidarity with the French people, he said the Middle East was also suffering "the earthquake" of jihadist groups.
Islamic State group claimed responsibility for the attacks in Paris that killed at least 129 people.
Addressing the domestic developments  he said:
"We should preserve the positive internal atmosphere in Lebanon and I renew the call for a comprehensive national settlement."
He added: "We should not await foreign powers to end the internal paralysis as they will become increasingly preoccupied by other issues."
Editors note: General prosecutor Judge Samir Hammoud announced that the Information Division  of the Internal Security Forces was able to identify the network behind the  Burj el-Barajneh attack . Several   people were reportedly arrested and being investigated.  One  source in the Interior Ministry announced that the    Information Division detained  five Syrians and a  Palestinian, stressing  they were involved in the  bombings of Burj el-Barajneh.