Saudi-led Coalition stops deposed Yemeni president from fleeing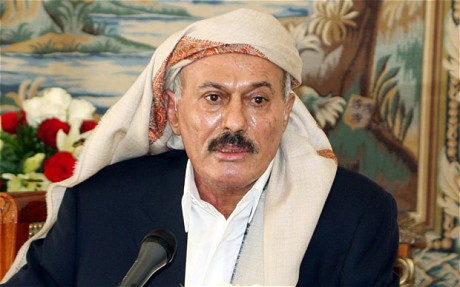 Deposed Yemeni President Ali Abdullah Saleh tried to flee the capital Sanaa aboard a Russian plane but he was prevented by the Saudi-led coalition imposing a ban on flights over the conflict-battered Arab country, Yemen's media reported on Friday.
A Russian aircraft carrying diplomats and relief aid landed in Sanaa airport on Thursday apparently after getting permission from coalition air force.
"The deposed president tried to flee aboard that plane Thursday night but it was prevented from taking off by the coalition forces," Yemen Press news website said.
It said the coalition ordered the pilot of the Russian plane to fly first to Bisha airport in Southern Saudi Arabia for inspection but he refused.
"This confirms the information that the deposed President tried to flee the country," the report said, adding that Saleh visited the Russian embassy in Sanaa on Tuesday.
Saleh is allied with the Iranian backed Yemeni Shiite Houthi rebels, while Russia is a stanch ally of Iran.
PUTRIN INTERVENTION IN YEMEN
Russian president VLADIMIR PUTIN has issued his strongest warning yet of fresh military interventions in the Middle East, with lawless Libya and war-torn Yemen in the Kremlin's crosshairs.
Speaking at the fifth World Congress of Compatriots in Moscow, Mr Putin said: "People who are not in Russia due to various reasons should be firmly sure: we will always protect your interests.
"Moreover, in difficult and crisis situations, such as in Libya, Syria or Yemen."
EMIRATES24/EXPRESS.CO.UK