LF, FPM to boycott legislative session over electoral law issue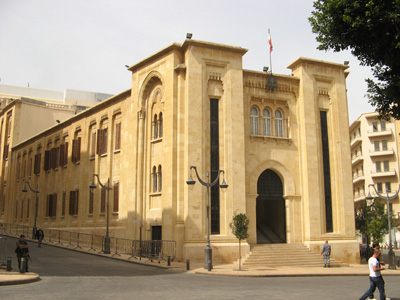 The 2 rival Christian parties , The Lebanese Forces and Free Patriotic Movement  said on Wednesday they will adhere to their "rejection to attend any parliament legislative session that does not have the electoral law on its agenda, "    An Nahar daily reported.
FPM MP Ibrahim Kanaan told al-Joumhouria newspaper: "The electoral law should be a top priority, because it will introduce a radical solution to the political crisis we are enduring and which we have been suffering from for 15 years."
"The presidential vacuum, extension of the term of parliament, and the paralysis at constitutional institutions are evidence of the need to exert all efforts to adopt a new electoral law," he explained.
Meanwhile, a lawmaker from the March 14 camp expressed his conviction that Speaker Nabih Berri will not call for a session without ensuring that all members of the parliament will attend.
The parliament bureau had convened on Tuesday and it approved 40 articles to include on the agenda of a legislative session, which has been scheduled for November 12 and 13.
Its agenda includes the draft-law on naturalization of Lebanese expatriates and the referral of mobile phone revenues to municipalities.
The LF and FPM had reached an agreement last month on the naturalization draft-law.
Kanaan hoped that the law would be adopted during the legislative session.
"We hope that this national demand would be the demand of all parliamentary blocs," he added.
Lebanese Forces MP Fadi Karam questioned the objections to the Christian demand  of having the electoral law on the  agenda of the parliament session  .
He asked via his twitter account : "What the aim behind the rejection of our demand"