Israel erects barrier in east Jerusalem area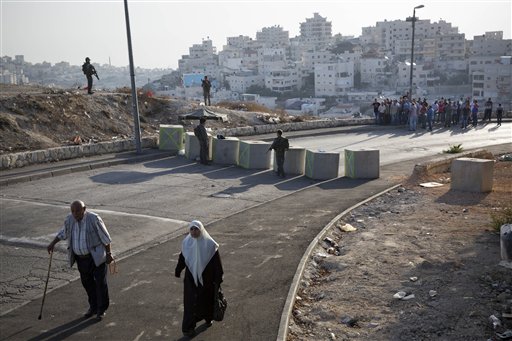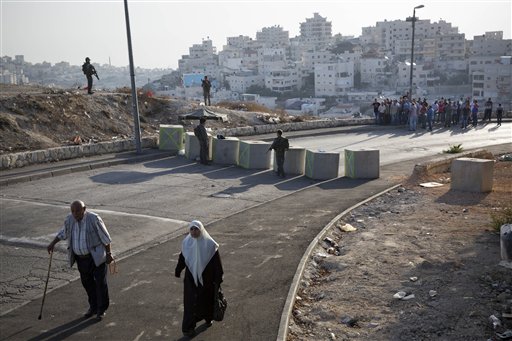 Israeli police say they have set up a concrete barrier between a Jewish and an Arab neighborhood in east Jerusalem amid soaring tensions.
Police spokeswoman Luba Samri says Sunday the slabs were placed there for security reasons, without elaborating.
Israeli media showed footage of a crane lowering the slabs between the Arab neighborhood of Jabal Mukaber and the Jewish area of Armon Hanatziv. Rocks and firebombs have often been hurled from the Arab area at houses in the Jewish neighborhood.
Israel has taken unprecedented measures to try to quell a monthlong spate of violence. It has deployed soldiers in Israeli cities and erected concrete barriers and set up checkpoints outside some Arab neighborhoods of east Jerusalem, where most of the attackers have come from.
Courage

Pope Francis is calling for "much courage and much strength of spirit" to bring an end to violence between Israelis and Palestinians.
The pope told followers during the traditional Angelus blessing on Sunday that he is following with great concern "the situation of strong tension and violence afflicting the Holy Land."
He said the moment called for "much courage and much strength of spirit to say no to hatred and revenge" and seek peace instead.
Palestinian assailants have been carrying out near-daily stabbing attacks against Israelis in violence fueled by rumors that Israel is plotting to take over Jerusalem's most holy site.
"Renewed intifada"
The leader of Lebanon's Shiite Hezbollah group has called the violent unrest in Israel a "renewed intifada," describing it as the hope for salvation for the Palestinians .
Hassan Nasrallah's remarks were broadcast Sunday. He said the wave of attacks against Israelis was carried out by a "new generation" of Palestinians who believe in "resistance" and who must be supported by all in the region.
Over the past month, eight Israelis have been killed in Palestinian attacks, most of them stabbings. In that time, 40 Palestinians were killed by Israeli fire, including 19 labeled by Israel as attackers, and the rest in clashes with Israeli troops.
Nasrallah said: "It is everyone's responsibility to stand by it and help it, each with their own capabilities, abilities and circumstances."
ASSOCIATED PRESS