Arson attack on Jewish shrine starts new wave of unrest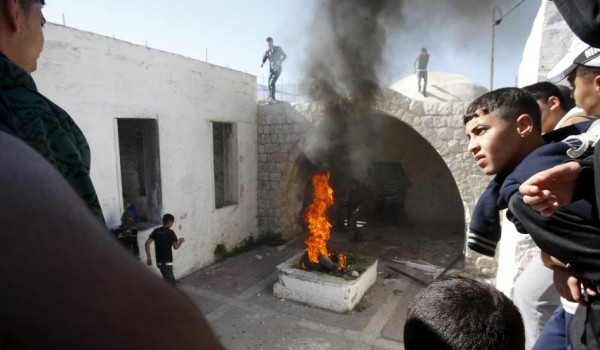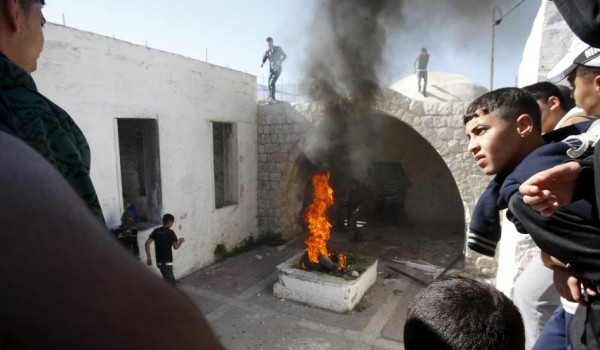 Palestinians in the Israeli-occupied West Bank set fire to a Jewish shrine near Nablus and stabbed an Israeli soldier near Hebron on Friday as tensions ran high after more than two weeks of violence.
Israeli security forces deployed massively in Jerusalem and Palestinian groups called for a day of protests. Meanwhile, ordinary Israelis began arming themselves with homemade weapons in response to the recent surge in violence.
Thursday marked a rare respite from the violence until Palestinian rioters set fire to Joseph's Tomb in Nablus overnight, Israeli and independent media reported.
Palestinian Authority security forces dispersed the mob at the compound believed to contain the remains of the Old Testament patriarch Joseph in the West Bank and put out the blaze. But the attack on the Jewish site was a worrying development as Palestinian groups called for protests after Friday prayers.
A Palestinian man wearing a yellow vest with the word "press" written on it stabbed and wounded an Israeli soldier early in the afternoon. The army says the attacker was shot and killed by other soldiers.
The attack took place just a few metres from a Palestinian protest after Muslim noon prayers in the West Bank city of Hebron.
Abbas condemns arson attack
Palestinian President Mahmud Abbas condemned the arson attack, reportedly started with Molotov cocktails, calling it irresponsible and announcing a committee would be formed to investigate the incident.
Israelis were reportedly arming themselves with everything from guns to broomsticks, rattled by a wave of Palestinian knife attacks and violent protests that have rocked annexed East Jerusalem, the occupied West Bank and the Gaza Strip.
"The laws regarding bearing arms have been relaxed here in Israel during this latest wave of violence," said FRANCE 24 correspondent Chris Moore from Jerusalem. "The mayor of Jerusalem has been carrying a firearm and encouraging fellow citizens to do the same.
"And it's not just guns we are talking about. Many stores, for example, reported running out of pepper spray.
"I should add that not all Israelis are reacting to the crisis in this way and many of them are simply going about their daily business," Moore added.
Seven Israelis have been killed and dozens wounded in the violence so far. At least 30 Palestinians have also died and hundreds more have been wounded in clashes with Israeli forces.
Israel has mobilised some 300 soldiers to reinforce police stretched thin by the unrest.
The last time soldiers deployed in such large numbers was in 2002, during the second Palestinian intifada, or uprising, the AFP news agency quoted a security source as saying.
'Reprehensible' attack
UN Secretary-General Ban Ki-moon on Friday strongly condemned the "reprehensible" Palestinian attack on a Jewish holy site in the West Bank and called for those responsible to be brought to justice.
The condemnation came at the opening of an emergency session of the UN Security Council called to discuss the escalating violence between Israel and the Palestinians in Jerusalem and the territories.
Prime Minister Benjamin Netanyahu on Thursday reiterated his willingness to meet Abbas, even while accusing him of inciting and encouraging violence.
"It's time that President Abbas stops not only justifying it, but also calling for it," Netanyahu told reporters.
US Secretary of State John Kerry also warned the Palestinian leader not to incite violence.
"President Abbas has been committed to non-violence. He needs to be condemning this, loudly and clearly," Kerry told US radio, adding that he planned to travel to the region in the coming days.
Abbas has called for peaceful protest, but frustrated Palestinian youths have defied attempts to restore calm.
Abbas again called Wednesday night for peaceful resistance, but young people fed up with Israel's occupation and the lack of progress in peace efforts have grown tired of his leadership.
The attackers seem to be mostly acting on their own. With no mastermind to pursue, that poses a major challenge to security forces.
FRANCE 24 with AFP, REUTERS