Iran warns Saudis of 'fierce' reaction if corpses of hajj dead not returned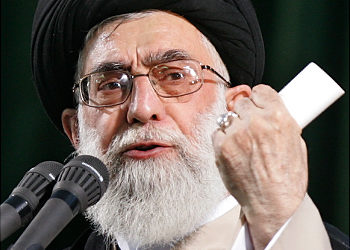 Iran's supreme leader Ayatollah Ali Khamenei threatened a "fierce" reaction Wednesday if Saudi Arabia does not quickly repatriate victims of last week's hajj stampede.
"Saudi officials are failing to do their duties," Khamenei said in a speech to graduating navy officers, following delays in the return of at least 239 Iranian bodies, accusing some of them of "slyness".
"They should know that the slightest disrespect towards tens of thousands of Iranian pilgrims in Mecca and Medina and not fulfilling their obligation to transfer holy bodies, will have Iran's tough and fierce reaction."
Six days after the tragedy, in which more than 700 pilgrims were killed, many of the victims have yet to be identified. Iran fears 241 of its nationals who are unaccounted for may be among them.
Rising tension
Khamenei's comments underscored Iran's increasing frustration at Saudi Arabia's refusal to allow a cargo plane into the kingdom to retrieve the dead and take them home to Tehran. His statement came hours after Iran summoned the Saudi envoy in Tehran for the fourth time since the stampede to demand the swift identification and repatriation of the victims of the catastrophe.
"The Islamic Republic of Iran has so far showed self-restraint and abided by Islamic politeness and brotherhood," Khamenei added, urging the formation of a fact-finding committee among Islamic countries to investigate the causes of the stampede.
The stampede, one of the deadliest tragedies to strike the annual hajj pilgrimage to Mecca in years, has added further tensions to the already fraught relationship between Iran and Saudi Arabia. The two are already fiercely opposed on a number of foreign policy issues – particularly over Yemen where a Saudi-led coalition has targeted Houthi Shiite rebels backed by Tehran.
Questions over safety measures
Iran has already placed the blame for the tragedy firmly at Saudi Arabia's door, with Khamenei accusing Riyadh of "improper" safety measures and "mismanagement" of what is thought to be one of the world's largest annual gathering of people with attendances often reaching 3,000,000.
"The government of Saudi Arabia must accept the huge responsibility for this catastrophe," state news agency IRNA quoted Khamenei as saying on Thursday, demanding that the causes of the accident "should not be overlooked".
Saudi Crown Prince Mohammed bin Nayef, who chairs the kingdom's hajj committee, has ordered an investigation into the cause of the tragedy.
FRANCE 24 / AFP