Abuses and massacres blamed on the Syrian regime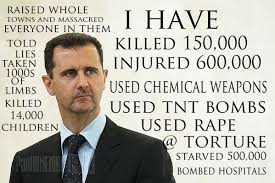 President Bashar al-Assad's regime, against which France has launched an inquiry for alleged crimes against humanity, has been accused of a string of rights violations since Syria's conflict erupted in 2011.
– Repression of peaceful demonstrations –
– March 6, 2011: In the southern city of Daraa, later to be known as the cradle of Syria's popular uprising, around 15 adolescents are arrested and tortured for having daubed anti-regime graffiti at the height of the Arab Spring, signalling the start of the revolt.
– April 22: Around 100 die after the security forces crack down with live ammunition on massive demonstrations in several cities, including the capital Damascus.
– July 31: During an intervention in rebel cities, the army and security forces kill 139 people, including 100 in the central city of Hama, the scene of massive demonstrations against the regime.
– Bloody massacres –
– February 4, 2012: More than 230 civilians are killed in a single night of army bombardment of the central city of Homs, the opposition says. Regime denied the charge.
– May 25: At least 108 are killed in the central city of Houla. A UN commission of inquiry says Assad's forces are responsible for many of the deaths.
– August 20-26: A largescale military operation against the rebel stronghold of Daraya near Damascus: more than 500 bodies are discovered.
– September 20: Dozens are killed when the air force strikes a petrol station in the northern province of Raqa.
– On December 23 more than 60 civilians are killed during a raid in front of a bakery near Hama. According to Human Rights Watch (HRW), attacks on queues in front of bakeries have killed dozens of civilians.
– January 13, 2013: Carnage at the university of Aleppo in the north: more than 87 die, mostly students. Rebels and regime trade blame.
– May 2-4: Massacres in Sunni coastal villages and neighbourhoods in the heart of Shiite Alawite territory, in Bayda and Banias, leave at least 200 dead.
– Chemical weapons and barrel bombs –
– August 21, 2013: At least 1,429 people including 426 children are killed according to US intelligence, in a chemical attack near Damascus blamed on the regime by the opposition and Western countries. Paris describes it as a "crime against humanity".
– In April, 2015, HRW accuses the regime of having dropped on six occasions in March chemicals packed into crude explosives-filled barrels on rebel-held areas during heavy fighting for the city of Idlib. Damascus denies.
– May 4, 2015: Syrian government forces are committing "crimes against humanity" by indiscriminately bombing Aleppo, Amnesty International charges, also criticising rebels for abuses including "war crimes".
Amnesty is highly critical of the government's use of so-called barrel bombs, crudely constructed weapons fashioned from barrels and other vessels packed with explosives.
Launched in November 2012, the dropping of barrel bombs by regime helicopters has left thousands dead, according to the Syrian Observatory for Human Rights.
– Torture accusations –
– March 13, 2015: The Observatory says almost 13,000 Syrians, including nearly 110 minors, have died under torture in regime prisons.
It says the number does not include 20,000 people who have gone missing in the jails.
– June 22: Women prisoners in government jails are used as a "weapon of war", the Euro-Mediterranean Human Rights Network says in a report, documenting sexual abuse and torture of detainees.
FRANCE24/AFP