UN: Speakers call for end to Syria deadly barrel bombs
Deadly barrel bombs dropped by Syrian army helicopters on opposition-held neighborhoods of Syria are the main driver behind the refugee crisis that has overwhelmed neighboring countries and now Europe, speakers at a panel held at the United Nations said Monday.
Kenneth Roth, the executive director of Human Rights Watch, urged the international community to put an end to President Bashar Assad's indiscriminate use of the bombs, saying the tactic also undermines the war against the Islamic State group.
"It is a recruitment bonanza for ISIS because the group can claim to be standing up to these atrocities," he said, using an acronym for the group. He said the explosives are being used for the sole purpose of terrorizing the population and have played a major role in fueling one the largest exodus of people since World War II.
Barrel bombs are makeshift shrapnel-packed explosive devices that Syrian forces continue to dump on rebel-held neighborhoods from helicopters, killing thousands of civilians over the past four years.
"We are tired of collecting limbs," said Raed Saleh, head of the Syrian Civil Defense. "We ask ourselves as we dig out people from the rubble, whether we are next."
They were speaking at the U.N. Monday as part of a special event on President Bashar Assad's use of the bombs.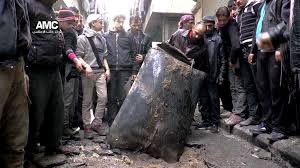 Enforcing a no-fly zone that would neutralize Assad's warplanes and helicopters would save 200 lives a week, said Khaled Khoja, leader of the main Western-backed Syrian National Coalition, an opposition group. He is in New York trying to convince world leaders of the urgent need for safe zones and a no-fly area in Syria, something the United States has so far resisted.
"The principal driver of the two biggest challenges that the international community faces — the refugee crisis and the threat of extremism — is the indiscriminate killing of civilians, mainly through air attack," Khoja said.
"It does not need to be this way. There is still time to avoid another Rwanda."