Saudi Arabia: Death toll from hajj pilgrimage stampede rises to 717, update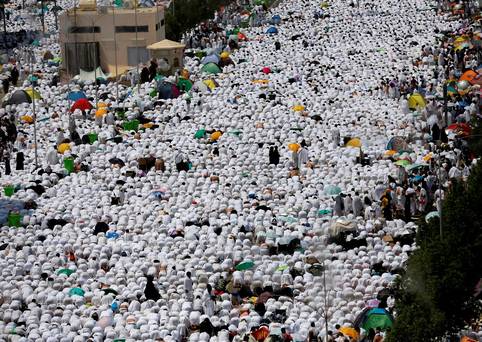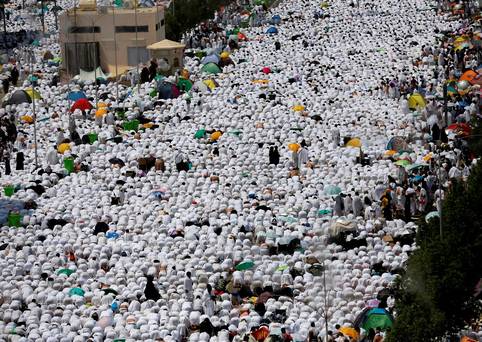 The latest developments from a stampede on the third day of the annual hajj pilgrimage in Saudi Arabia.
Saudi authorities say death toll from stampede at hajj pilgrimage rises to 717 and the number of injuries 863.
______________________________
Earlier it was reported that the stampede killed 150 people and left 400 others wounded at the Hajj pilgrimage on Thursday, Saudi Arabia officials said.
"We have a stampede accident in Mina and civil defense is dealing with it," Interior Ministry spokesman Brig. Gen. Mansour al-Turki said.
The stampede occurred during the ritual known as "stoning the devil," where crowds of pilgrims throw stones at a rock wall meant to symbolize a rejection of evil.
Mina is about 5 kilometers east of the holy city of Mecca.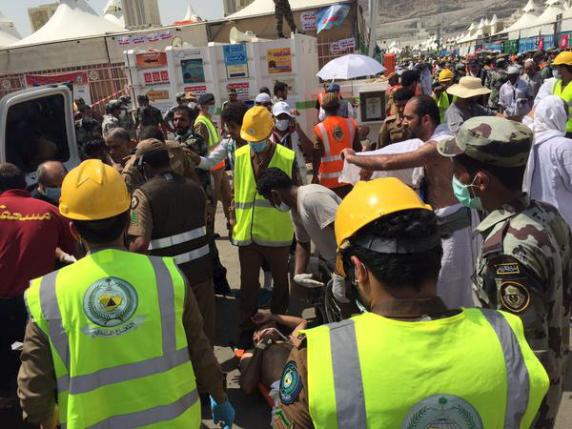 The Hajj is one of the most celebrated events in the Islamic calendar and one of the world's largest public gatherings.
For most Muslims, it is the spiritual climax of their lives, with many saving for decades to make the journey.
More than 2 million Muslims from around the world are attending events over several days at the annual pilgrimage.
Known as the fifth pillar of Islam, the Hajj is an obligation upon every Muslim who has the financial means and the physical ability to perform it.
The pilgrimage, conducted over five days, includes detailed rituals such as wearing a special white garment that symbolizes human equality and unity before God; a circular procession around the Kaaba, Islam's holiest shrine; and the symbolic stoning of evil.
Thursday was the third day of the Hajj.
It was also a tragic day for Muslims in Yemen on Thursday, where at least 29 people attending Eid prayers died when a bomb went off inside a crowded mosque in Sanaa.
Hajj-related incidents in Saudi Arabia
Every year, millions of Muslims converge on the Saudi holy cities of Mecca and Medina for the annual hajj pilgrimage, with the massive ceremonies representing a major security and logistical challenge for the kingdom's authorities.
On occasion, the hajj and events surrounding it have been marred by accidents and tragedies, such as Thursday's stampede near Mecca that killed at least 453 people.
2006: More than 360 pilgrims are killed in a stampede at the desert plain of Mina, near Mecca, where pilgrims carry out a symbolic stoning of the devil by throwing pebbles against three stone walls. The day before the hajj began, an eight-story building being used as a hostel near the Grand Mosque in Mecca collapsed, killing at least 73 people.
2001: A stampede at Mina during the final day of the pilgrimage ceremonies kills 35 hajj pilgrims.
1998: About 180 pilgrims are trampled to death in panic after several of them fell off an overpass during the final stoning ritual at Mina.
1997: At least 340 pilgrims are killed in a fire at the tent city of Mina as the blaze was aided by high winds. More than 1,500 were injured.
1994: Some 270 pilgrims are killed in a stampede during the stoning ritual at Mina.
1990: The worst hajj-related tragedy claims the lives of 1,426 pilgrims in a stampede in an overcrowded pedestrian tunnel leading to holy sites in Mecca.
Update: Lebanon's Higher Islamic Shiite Council hajj delegation reported that no casualties were recorded among the Lebanese pilgrims.
Update: The death toll has risen to 717 pilgrims and 863 injuries
Update: Lebanon's consul general in Jeddah announced that 3 Lebanese and a Palestinian refugee died of "natural causes" while performing the hajj pilgrimage.
VOL93.3 radio station reported that Lebanese pilgrim Abou Thaer Ayyoub of al-Beddawi was among those killed in the Mina incident while Sabah Qassem al-Zein, who hails from al-Bourj al-Shamali, died of a sudden heart attack
Associated Press
We at Ya Libnan encourage and welcome an open exchange of ideas on this story's topic, but we kindly ask all participants to follow our guidelines for respecting community standards. Personal attacks, inappropriate language, and off-topic comments may be removed, and comment privileges revoked .