Russia offers more aid for Syria's Assad
Russia said Thursday it is sending humanitarian assistance, military supplies and advisers to Syria and will send additional aid if asked, raising U.S. concerns it will escalate the civil war and send even more migrants to Europe.
"Russia is airlifting military products to Syria under the effective contracts, as well as humanitarian assistance," Russian Foreign Minister Sergey Lavrov said, according to the official Tass news agency.
Lavrov said Russian military personnel have been in Syria "for many years," to train and support forces loyal to President Bashar Assad in the country's four-year civil war. Russia will consider additional steps "exclusively at the request and with the consent of the Syrian government or other countries in the region, if the talk is about assistance or the struggle against terrorism," Lavrov said.
Russia's support for strongman Assad pits Moscow against U.S. policy, which favors his departure, although President Obama has not taken any direct military steps to oust him. Instead, the administration has been training a band of so-called moderate rebels to combat the Islamic State, which has taken advantage of the civil war to recruit fighters and set up its headquarters in Syria.
Kremlin spokesman Dmitry Peskov said Thursday that Moscow supports the Syrian army because there are no other credible groups that could defeat Islamic State militants in that country, according to Russia's Pravda news site. Peskov said Russia will discuss the issue at the U.N. General Assembly this month in New York City.
Russia's move comes after Bulgaria and Ukraine this week closed their airspace to Russian flights to Syria to stop any Russian military buildup there. Greece announced Monday it received an American request to deny Syria-bound Russian flights over its airspace. Iran, Assad's other major ally, has agreed to allow Russian flights to Syria.
Three Russian transport planes landed this week in Syria and off-loaded supplies in the Assad stronghold of Latakia, unnamed U.S. officials told several media outlets, including CNN and AFP.
U.S. Secretary of State John Kerry called Lavrov on Wednesday to warn that Russian military support in Syria for the Assad regime would worsen the civil war, lead to more deaths and increase the flow of refugees fleeing the crisis, the State Department said. Kerry made a similar call to Lavrov last Saturday.
Europe has been rocked by hundreds of thousands of migrants, many from Syria, attempting to reach the continent by land and sea through Turkey, Greece and Italy. About half of Syria's 22 million citizens have been displaced by the civil war, with most taking refuge in neighboring Jordan, Lebanon, Turkey and Iraq, according to the United Nations.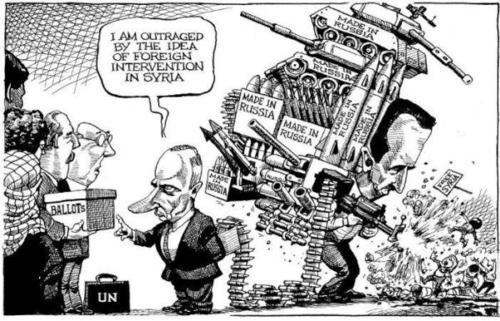 State Department spokesman John Kirby said Wednesday that if Russia wants to help counter the Islamic State, "the way to do it is to stop arming and assisting and supporting Bashar Assad."
The Syrian civil war began in 2011 as a revolt against the government crackdown on democracy activists. Mostly secular rebels have since been overshadowed by better armed radical groups, including an al-Qaeda affiliate and the Islamic State, also known as ISIL or ISIS.
Assad "is a principle reason why ISIL has been allowed to sustain itself inside his country," Kirby said "This is a guy who's barrel-bombing his own people and killing his own citizens, and … causing the flow of millions of people outside of his country, putting them in harm's way."
Jean-Marie Guéhenno, president of the Brussels-based International Crisis Group, said stemming the flow of refugees from Syria could help solve Europe's migrant crisis, but millions have already left the country and are looking for somewhere safe to go.
"For them to go back, they have to feel there's somewhere safe for them to go back to," Guéhenno said. And at the moment, there is no end in sight for the war, because "all sides have a sense they will eventually win."
Russian troops already in Syria
Russian troops have arrived in Syria to aid Bashar Assad's beleaguered government in the battle against Islamic State militants, Israel's defense minister said Thursday, a development that could help the Syrian president reverse his recent battlefield losses in the country's bitter civil war, now in its fifth year.
Moshe Yaalon said the Russians in recent days dispatched military advisers as well as an active force, with the main goal of setting up an air base. The base, near the Syrian city of Latakia, could deploy fighter jets and helicopters in strikes against IS militants.
"As far as we understand, at this stage we are talking about a limited force that includes advisers, a security team and preparations for operating planes and combat helicopters," Yaalon said in a briefing with Israeli reporters.
The claim was the latest indication of a Russian military buildup in Syria that has raised U.S. and NATO concerns.
Yaalon described the Russian move as "significant," and said if the Russians plan on carrying out airstrikes against IS militants, they would have to coordinate it with a U.S.-led campaign.
Asked about Russian planes flying to the airfield near Latakia, Lavrov said without elaborating that they were carrying "military items in accordance with existing contracts and humanitarian aid."
USA TODAY/AP