Future Movement slams Hezbollah's 'Unimaginable Corruption'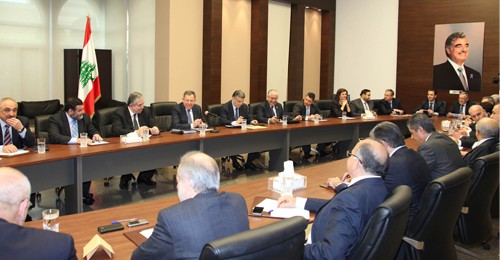 Future Movement parliamentary bloc on Tuesday  slammed Hezbollah over what it described as "unimaginable corruption "  and urged the government to find a "permanent solution" to the unprecedented garbage crisis .
Responding to corruption accusations from "some Hezbollah media outlets, MPs, officials and mouthpieces,"the Future Movement said "Hezbollah's corruption level is unimaginable."
"Creating sectarian spheres of influence at the state's expense is corruption, dodging legal obligations is corruption, militarizing communities and creating autonomous security zones is corruption, smuggling through public ports is corruption, refraining from paying fees and taxes is corruption, encouraging black markets is corruption, and the illegal trade and manufacture of medicines, drugs and Captagon is corruption," the  Future Movement bloc charged.
The bloc "salutes the youth and civil protest movement that has revolted against the state's paralysis and the aggravated insult of the spread of garbage and the absence of power supply and other essential services," it said in a statement issued after its weekly meeting.
"In this regard, the bloc calls on the government to hold an immediate, open-ended session dedicated to finding a permanent solution to the garbage crisis,"Future Movement added, urging the government to "name the political parties who are obstructing the solutions."
Addressing the corruption accusations, the Future Movement  said it "endorses, without any reservations, the demands urging the eradication of corruption from its roots," calling on political forces to "re-read the draft law that was proposed by the Saniora government in 2006 to subject the accounts of public administrations and state institutions to inspection and evaluation according to the international standards of inspection."
And as it described the demands of the protest movement as "legitimate," the bloc noted that the "only feasible immediate demand is the election of a president, which would automatically lead to a new government and a new electoral law."
Accordingly, it called on the national dialogue meeting that will be held Wednesday to "address the core issue, which would be an agreement on the election of a president."