First dialogue session ended , nothing achieved , next session set for Wednesday Sept 16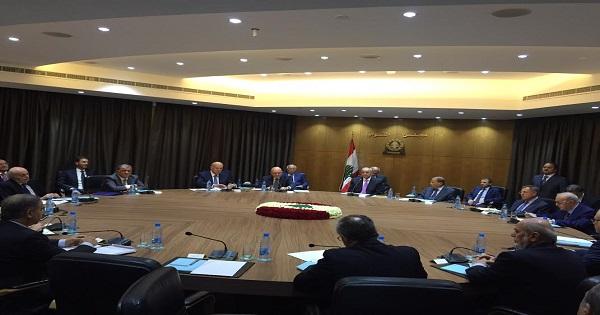 The dialogue session called for by Speaker of Parliament Nabih Berri kicked off at the parliament around 12 noon Beirut time and ended 3 and a half hours later at 3:30 pm.
The participants started leaving the parliament as soon as the session ended and Speaker Berri who was the first to arrive at the parliament is expected to tell the Lebanese people the result of the talks in a press conference .
The next session was set by Berri for Wednesday Sept 16, said MP Adnan Dhaher
The talks were attended by the heads of all the parliamentary blocs except the Lebanese Forces. The "You Stink" activist group and its affiliates have called for a popular demonstration in Downtown Beirut next to the parliament where the dialogue talks will be held.
The talks were expected to address a number of issues including: the vacant presidency, the parliament and government agenda, as well as the electoral draft law.
Protesters pelted the convoy of MP Michel Aoun with eggs, rocks and and garbage on arrival and departure from the parliament.
Some other convoys were pelted by eggs by the 'You Stink' protesters, according to media reports
MTV reported that the only item that was discussed during the first session was the presidential issue.
MTV also said the discussion towards the end was heated and very tense and angered Aoun which prompted Berri to end the session
LBC reported that Aoun was angered by the debate he had with MP Boutros Harb during the session.
MTV reported that 2 ministerial cars were pelted by eggs as they were leaving the parliament
The meeting was relatively calm except towards the end because of the heated debate between Aoun and Harb over the issue of the presidential vote according to VOL 100.5
The garbage file was also discussed during the session and all parties were asked to facilitate the work of the cabinet during the meeting that will be held later today, LBCI reported adding Hezbollah and the FPM will boycott the emergency cabinet session scheduled for this afternoon.
OTV reported that there was also a heated debate between Siniora and Aoun over the issue of a strong president which prompted Harb to intervene.
Commenting on the dialogue talks , You Stink spokesman Marwan Maalouf said : "Our battle continues because as you can see nothing was achieved during this session and all they did was postpone it. These people are not capable of solving our problems. They are the problem ! "
Bottom line according to MTV : Nothing was achieved during session 1
Reporters are still waiting to hear Berri but so far he has not spoken