Fneish : Hezbollah supports Aoun's presidential candidacy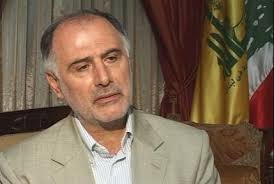 "Hezbollah supports Michel Aoun's presidential  candidacy", Minister of State for Parliament Affairs Muhammad Fneish, stressed  Sunday  in in Ras el-Ein Houseiniyya mosque  during the  funeral of  a Hezbollah member who was  killed in Syria.
"Thanks to Nabih Berri's initiative, state institutions catering to people's needs could be reactivated once more," Fneish a key Hezbollah party official  added in a possible reference to the upcoming all party dialogue talks that Berri is scheduled to launch on Wednesday .
Commenting on the Friday  rally by  the  Free Patriotic Movement in down town Beirut he said   :
"The recent demonstration underscored the extent of massive support Aoun enjoys thereby giving him all the right to pursue his claims and objectives"
Commenting on the uprising  by the You Stink group and its supporters  against corruption by the Lebanese politicians  he said :
"Whoever accuses our party of corruption misses the mark and covers up for the real corrupters."
According to observers  the Iranian backed Hezbollah  militant group never wanted  Aoun to be  a president and what Fneish is claiming  is strictly  lip service .