"Sisi scenario" for Lebanon "is now almost certain": report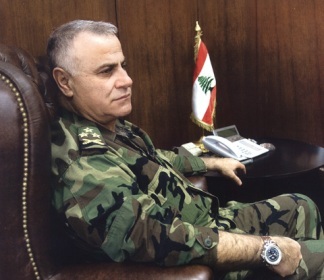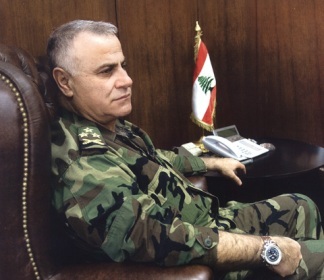 Beirut, Lebanon – Lebanon's army chief Jean Kahwaji will be appointed by lawmakers as the country's president, in order to quell widespread public anger over a dysfunctional political system and a presidential vacuum that has now lasted for over a year.
A source from the 14 March Alliance—a coalition of political parties led by Saad Hariri, the son of former prime minister Rafik Hariri—told Asharq Al-Awsat a "Sisi scenario" for Lebanon was now "almost certain" in light of the recent protests that have rocked the country.
Speaking in reference to former Egyptian army chief and current President Abdel-Fattah El-Sisi, the source said MPs have agreed to elect head of the army Kahwaji as president of the country before parliamentary elections are held and a new government is appointed.
The source added that the idea was proposed by Lebanese MPs and "international sides" in recent months during negotiations between Iran and world powers over Tehran's nuclear program. Iran, through Shi'ite group Hezbollah, holds considerable influence over Lebanese politics.
Thousands of Lebanese have taken to the streets of Beirut and elsewhere in the country in recent weeks to protest a mounting garbage crisis in the capital. Piles of refuse have accumulated throughout Beirut since the beginning of the summer after the government closed the city's main landfill site without proposing alternatives for waste collection.
The protesters say the crisis is symptomatic of a failed government and political system, with Lebanon blighted by poor public services and facing a presidential vacuum that has now lasted for a year and four months.
Lebanon's political system is dominated by sectarian groups such as the Shi'ite Hezbollah and Christian Kataeb (Phalangist) Party. Official posts are divided up between different confessional groups, with the presidency traditionally held by a Christian and the prime minister and parliament speaker posts going to a Sunni and a Shi'ite Muslim respectively.
However, political deadlock has prevented the election of a new president, with lawmakers unable to agree on a candidate. According to Lebanon's constitution, the public vote in parliamentary elections but only elected MPs can appoint the country's president.
Several candidates have been touted for the position. They include Kahwaji, head of the Lebanese Forces Party Samir Geagea, and former army chief Michel Aoun.
The source said lawmakers plan to appoint Aoun's son-in-law Brig. Gen. Chamel Roukoz as head of the army in Kahwaji's place in order to placate Aoun and leave the way open for Kahwaji. Aoun has been lobbying MPs for months to replace Kahwaji with Roukoz but has refused to back down from his bid for the presidency.
Meanwhile, a source close to Prime Minister Tammam Salam said the latter would not acquiesce to protesters' demands to sack Environment Minister Mohamed Mashnouq over the garbage crisis.
"The environment minister will not resign under pressure and will not become a scapegoat for a thorny issue that has been around for decades," the source said.
Asharq Al-Awsat