Main suspect in Bangkok bombing arrested, says Thai PM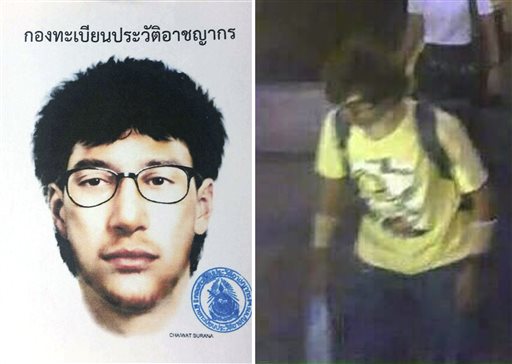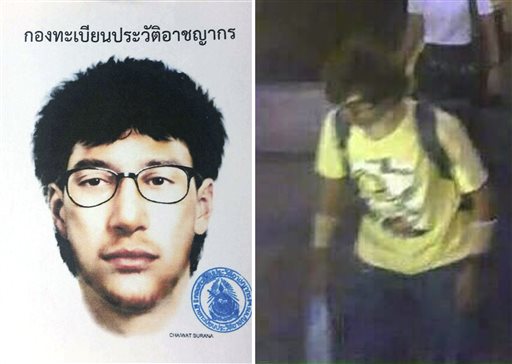 Thailand's prime minister said Tuesday that authorities have arrested a man they believe is the main suspect in a bombing at a shrine in central Bangkok two weeks ago that killed 20 people.
Prime Minister Prayuth Chan-ocha said the man is a foreigner and was arrested in eastern Thailand near the Cambodian border. He described him as the main person in the bombing but did not directly say he is suspected of actually planting the bomb.
Prayuth said officials knew from their investigation that people involved in the bombing were about to flee the country and had traced the man to Aranyaprathet district in Sa Kaeo, a major crossing point to Cambodia. The prime minister described the man as a piece in a jigsaw puzzle that would connect various parts of the case, which included a bomb that exploded harmlessly in a river next to a busy pier in Bangkok the day after the shrine blast.
It was not immediately known if the arrested man is the person who was seen in a security video wearing a yellow T-shirt and leaving a backpack at the shrine shortly before the blast there.
Prayuth warned against speculating about the arrested man until more information is learned.
He said it would be great if the suspect is the man they are seeking, "So we will know who they are, where they came from, who's behind this."
"Don't say just yet it's about this and that. It could affect international affairs," he said. "We have to do a lot of tests, fingerprints. If he is the guy, he is the guy."
The blast at the Erawan Shrine was unprecedented in the Thai capital, where smaller bombs have been employed in domestic political violence over the past decade, but not in an effort to cause large-scale casualties.
Security officials on Saturday arrested a man during a raid on a Bangkok apartment that contained some bomb-making materials, and Thai military authorities have been interrogating him. He has been linked to the shrine bombing, but the authorities have not yet released his name or nationality.
Arrest warrants were issued Monday for two more suspects, a Thai woman and a man of unknown nationality, after a raid Sunday on a second apartment found more bomb-making materials. Relatives of the woman who had rented the second apartment told authorities that she is innocent and is now in Turkey, married to a Turkish man.
No one has publicly claimed responsibility for the attack, sparking an array of theories about who might be behind it. Police have suggested that the suspects were part of a people-smuggling group who held a grudge against Thai authorities.
Speculation has grown that the suspect might be part of a group seeking to avenge Thailand's forced repatriation of ethnic Uighurs to China in July. Prayuth on Monday linked the two theories, suggesting the bombers might have been involved in smuggling Uighurs out of China.
Uighurs are related to Turks, and Turkey is home to a large Uighur community. The Erawan Shrine is especially popular with Chinese tourists, feeding the idea that it could be a target for people who believe the Uighurs are oppressed by China's government. Beijing says some Uighurs are Islamist terrorists, and among them is a group that has been smuggled out of China to join Islamic State fighters in Syria.
The suspect arrested Saturday had a Turkish passport, though Thai authorities say it was fake. At his apartment, they seized at least 11 passports that appeared to be Turkish, among more than 200 passports in all.
ASSOCIATED PRESS