Lebanon's garbage debacle has overcome the sectarian divide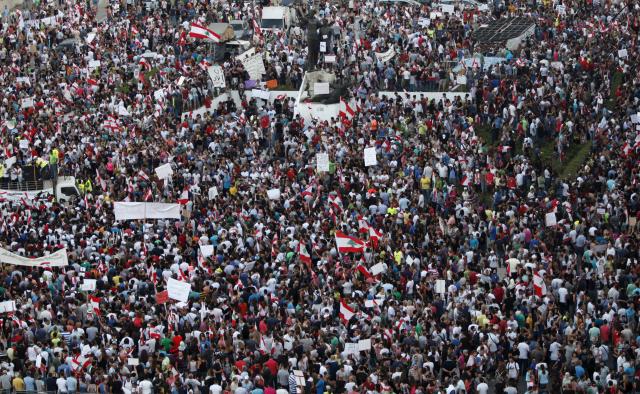 "Sovereign ministry" is a term used exclusively in the Arab world to indicate ministries that are more important than others. They include ministries of defence, foreign affairs, interior and finance. In this sense, all other ministries – the non-sovereign ones – are by default less important. These include ministries of education, culture, public works, economy, social affairs and environment.
This is why Lebanese prime minister Tamman Salam sought to form his cabinet without angering sectarian leaders who were vying for sovereign portfolios that they see as the keys to power. Lebanese columnist Samir Atallah, writing in the London-based daily Asharq Al Awsat, said Mr Salam used his limited discretion to appoint ministers outside of the political parties to nominate his friend Mohammed Al Mashnouq to the ministry of environment.
Mr Al Mashnouq had inherited the ministry as a dilapidated and inefficient department that, through decades of neglect and corruption, had been turned into a tool to siphon public funds into politicians' bank accounts. For decades, the environment remained an inconsequential department until it didn't function anymore and mountains of rubbish invaded the streets of Lebanon.
"All of a sudden, the Lebanese, drowning in pollution, realized that the environment means life, and that the neglect that befell the environment ministry all these years has driven them against a new wall, this time made of rubbish," he wrote.
"Soon enough, the ministry's inability to collect the rubbish morphed into a crisis involving the interior ministry and all other sovereign ministries, a crisis involving the state as a whole."
As for the Lebanese people, this was the last straw. After decades of indifference, they decided to rise up and demand their basic rights – an efficient economy, good social welfare, good health care and a clean environment.
Ghassan Charbel, editor-­in-chief of the pan-Arab daily Al Hayat, said it was a serious concern when thousands of young people decided to take to the streets in protest.
"It is no trivial matter that they withhold confidence from the whole political class and its leaders. This isn't a mere reaction to the sea of waste besieging the cities and towns; it is a popular response to a policy of condescension of the people," he wrote.
For the first time in Lebanon's modern history, people have let go of their restricting political and sectarian affiliations, coming together to sound the alarm about the hazards of living without fully functioning state institutions.
"The Lebanese deserve to have a president and a respectable cabinet that oversees clean legislative elections and a modern electoral law," he continued.
"They deserve to see those who wronged them brushed aside and sent far away. It is only fair for them to clamour for a normal state that doesn't belittle and humiliate its people – a small country that preoccupies itself with the interests of its people and does not shoulder roles that far surpass Lebanon's capabilities or clash with its nature."
The unexpected turnout at the protests in Beirut this past weekend received global attention. Western diplomatic sources have confirmed that the issue was added to the agenda of the International Support Group for Lebanon meeting next September. This group includes the five permanent Security Council member states, Germany, Italy and the UN secretary-general, and it was reported that they followed up closely on the growing crisis through their embassies in Beirut.
These popular protests seem to have transcended the existing political and sectarian divide in Lebanon and some foreign powers are looking into the possibility of lending them support, reports said.
The 72-hour ultimatum that the protesters gave the Lebanese government on Saturday to acquiesce to popular demands and introduce reformative measures expires on Tuesday. The situation in Lebanon seems to be headed towards escalation.
Translated by Racha Makarem
The National