A motorist drives past a burning mountain of waste in Lebanon (Mohamed Azakir/Reuters)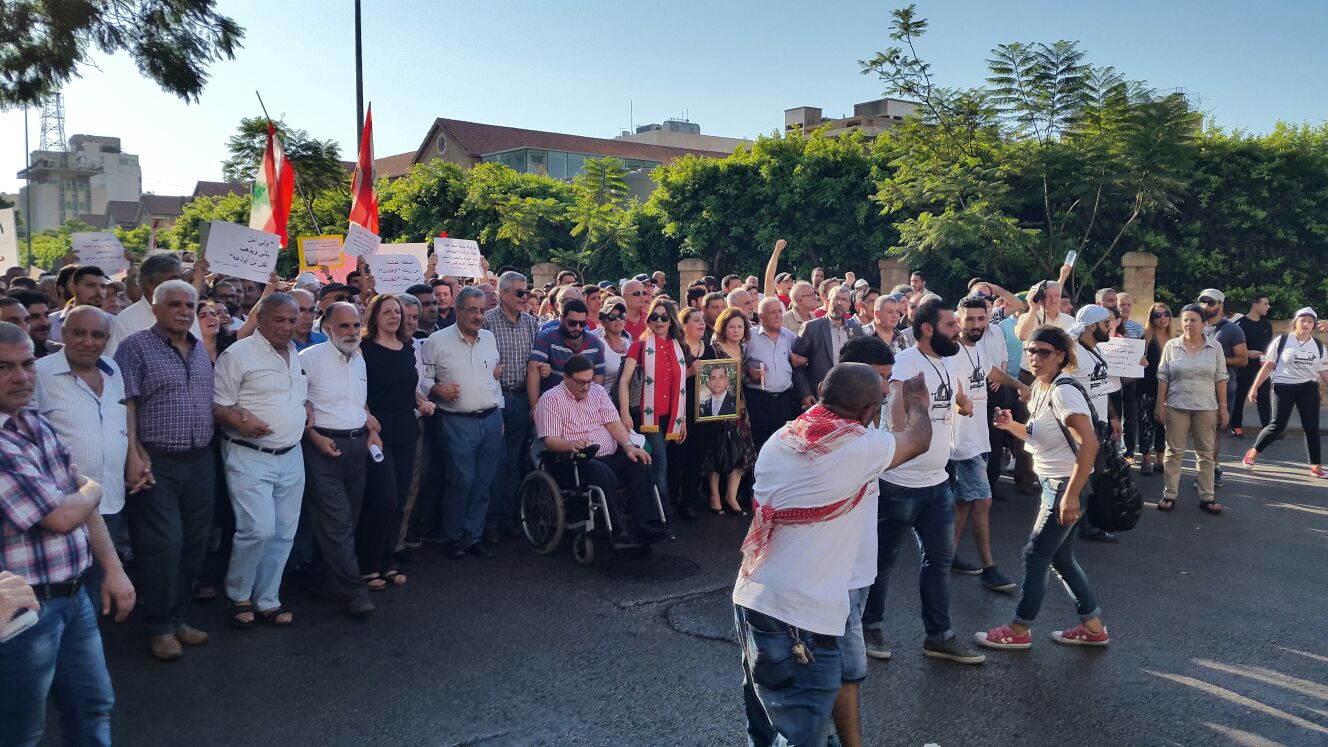 Here are the latest updates on current issues in Lebanon.
You Stink protest
-All eyes remain focused on what is going to happen Saturday during the You Stink protest.
Internal Security Forces chief Major General Ibrahim Basbous told VOL (93.3) radio station: 1500 security members are on alert and shooting at protesters is strictly prohibited.
– The Central Security Council meeting kicked off at the interior ministry in the presence of security officials to coordinate efforts on today's demonstration in Downtown Beirut VOL (93.3) radio station reported
– The "You Stink" campaign announced on Friday that it will hold a demonstration on Saturday afternoon to demand the resignation of Environment Minister Mohammed al-Mashnouq over his failure to resolve the trash disposal crisis.
– The campaign also announced that the demonstrators will demand that Interior Minister Nouhad al-Mashnouq be held accountable for the "assaults by the security forces and parliament guards" against the protesters last week.
– The "You Stink" campaign expressed hope that its efforts will be crowned with the staging of parliamentary elections after the current parliament had "illegally" extended its term on two separate occasions.
-Former Minister of Finance Jihad Azour told "Voice of Lebanon (93.3) radio station : The government entrusted to the private sector what it failed to do with regards to the garbage landfills and this opened the way for bribes and corruption as they try to find new landfills.
– Prime Minister Tammam Salam contacted on Friday his Turkish counterpart to request Ankara's assistance in helping Lebanon resolve its waste disposal crisis, reported Anatolia news agency.It said that Salam contacted Ahmet Davutoglu who expressed his country's readiness to help Lebanon end its crisis.
One Lebanese observer commented by saying: "We are exporting brain power to the whole world and left with potato heads leading us."
– Central Security Council announce that a joint chamber of operations between the army and the ISF will be established to coordinate means to preserve the security today's demonstration .
-2 garbage filled trucks were intercepted while they were heading from Jounieh to the outskirts of Arsal.
– Anti-government You Stink protesters marched from the interior ministry in Hamra to Martyrs Square to demonstrate against the political class which they see as corrupt.

– Demonstrators reached the Murr tower and are now heading to Martyrs Square where the sit-in will be held.
– ISD vowed to to respect the rights of the Lebanese in demonstrating their freedom of expression in a peaceful manner .
– Amnesty International called for restraint ahead ofnthe planned mass protest march in the capital.
-UCC chief Hanna Gharib said as he headed to Martyrs square : What is needed is a complete change . We want a new democratic state .
The Union Coordination Committee (UCC) is a coalition of government workers and teachers.
– Demonstrators reached Bab Idriss and are now heading to Martyrs Square where the sit-in will be held.
– Demonstrators marching towards Martyrs Square are urging people sitting on balconies to join their protest.
– Saturday's protest is expected to be the largest of demonstrations that began last week over garbage piling up in the streets of Beirut, following the closure of a main landfill. But the government's failure to resolve the crisis has evolved into wider protests against a political class that has dominated Lebanon since the end of the country's civil war in 1990.
-The 'You Stink' demonstrators reached the Martyrs Square where the sit-in will be held.
–
-The Lebanese flag is the only flag that is being waived by protesters.
In solidarity with the You Stink protesters , The Lebanese expatriates are holding sit-ins in Munich Germany , Brussels,Belgium , Canada and Washington, DC, USA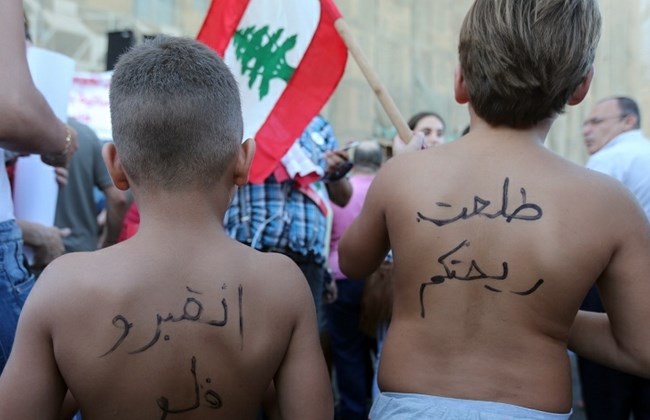 ,
The protesters expressed their objection to a huge sign by ISF that reads : "We are with you and from you and for your protection " . They demanded its removal
The protesters called for the resignation of Environmental minister Mashnouq
Some protesters vowed to remain at Martyrs square until Mashnouq resigns and a new president is elected
Some protesters attacked the OTV team that was reporting on the protest
Some protesters that came earlier this evening from Baalbeck headed from Riad el Solh square to the martyrs square
The protesters vowed to escalate the demonstration throughout Lebanon if their demands are not met within 72 hours
Some protesters started leaving Martyrs square and some started erecting tents.
A small group of masked youths tried to break through barbed wire to reach the prime minister's office. They set fire to rubbish and pelted police officers with stones and plastic bottles.
Here are some more pics of the protests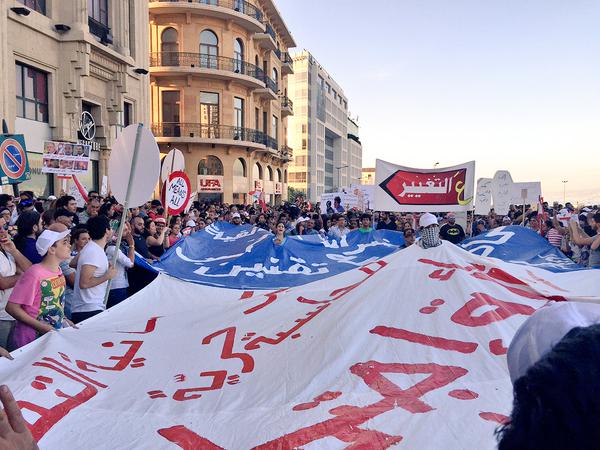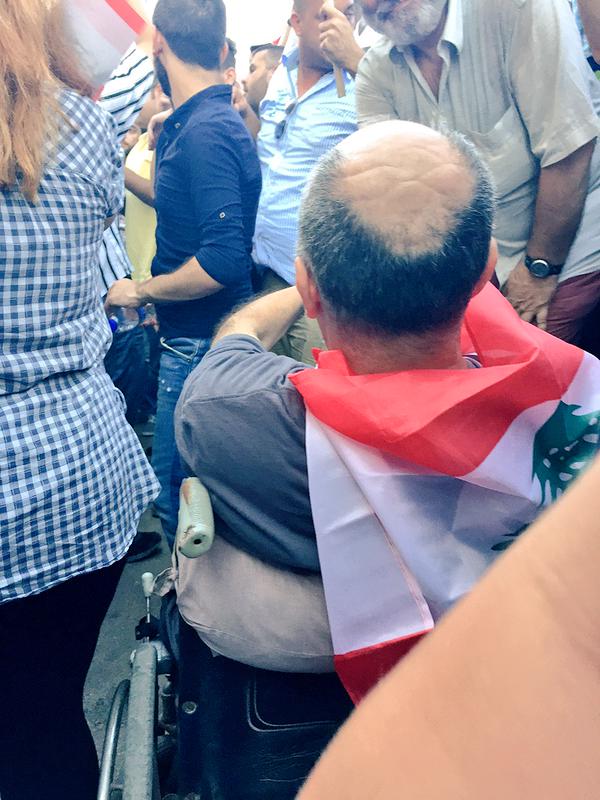 Power blackout
A power outage affected almost all the Lebanese regions because of a major malfunction that is expected to be repaired by this evening, EDL announced
Dialogue
All eyes are also on an initiative expected to be kicked off by Speaker Nabih Berri to hold consultations to bring the rival politicians to the dialogue table either at his residence in Ain el-Tineh or at the parliament.
Berri first chaired the dialogue talks in the spring of 2006. But the talks were interrupted by the summer war between Israel and Hezbollah.
The talks were later chaired by former president Michel Suleiman after his election in 2008
Unfortunately for Lebanon the Iranian backed Hezbollah reneged on the deals reached during the dialogue talks .
In 2006 it initiated a war with Israel when it kidnapped 2 Israeli soldiers despite a deal that war and peace decisions will be jointly decided by all concerned parties
and in 20013 Hezbollah decided to fight alongside the forces of the Syrian regime against the mostly Sunni rebels despite the Baabda declaration which called for distancing Lebanon from events in Syria.
Arrested after 12 years of hiding
After hiding for 12 years, the General Security arrested Mohammed al-Hatem on charges of belonging to the IS terrorist group and for committing various crimes in Lebanon
Hezbollah member killed in Syria

Another Hezbollah member who hails from the southern Lebanese village of Tair Fasy was killed in Syria while fighting alongside the regime forces. He was identified as Hassan Ali Mazih
Another  Hezbollah member who hails from the  Beqaa town of Khraibeh was killed in Syria in the city of Zabadani while fighting alongside the regime forces. He was identified as Zakaria Khalil
This error message is only visible to WordPress admins
Error: No connected account.
Please go to the Instagram Feed settings page to connect an account.