Days after China's biggest scare the worst may be over for Wall Street for now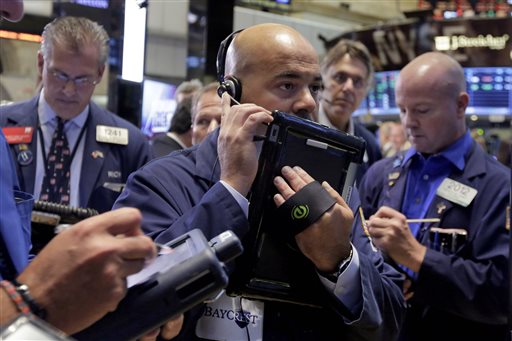 Days after China threw the biggest scare into Wall Street in years, U.S. stocks have come surging back and ended the week Friday on a placid note that suggested the worst may be over for now.
Even so, investors are buckling their seat belts for more turbulence ahead.
The Dow Jones industrial average fell a scant 11.76 points Friday, or 0.1 percent, to 16,643.01, capping a week that saw stomach-churning losses and gains of around 600 points per day. The Standard & Poor's 500 index rose 1.21 points, or 0.1 percent, to 1,988.87. The Nasdaq composite added 15.62 points, or 0.3 percent, to 4,828.32.
U.S. stocks went into their swoon last week, mostly over signs of a slowdown in China, the world's second-biggest economy. Before the six-day losing streak had ended, the Dow had plummeted 1,900 points and the S&P 500 was undergoing its first "correction," a decline of 10 percent or more, in nearly four years.
But stocks soared at midweek, cutting the Dow's losses nearly in half, in a rally analysts attributed to bargain-hunting, signs that the Federal Reserve may hold off raising interest rates this fall, and a new report that said the U.S. economy is growing at a more robust rate than previously believed.
Still, the concerns that triggered the sell-off remain: slumping oil prices, a slowing Chinese economy, weak corporate earnings forecasts and uncertainty over interest rates.
That means there's likely to be more market volatility ahead, something that history backs up. September has been the worst month for stocks.
"For the last few years, let's face it, there's been very little volatility," said JJ Kinahan, TD Ameritrade's chief strategist. "We've had a very impressive rally. Not that we can't go higher, but it's not going to be an easy path to get there."
The S&P 500 is still nearly three times higher than its post-2008 financial crisis low in March 2009. The Dow is up roughly 2 1/2 times higher.
Despite the bounce-back this week, stocks are on course for their worst monthly performance in more than three years. The S&P 500 is down 5.5 percent in August, and the Dow is down 5.9 percent.
"That kind of volatility is pretty scary," said Hans Chang, 33, who was visiting New York on Friday. Because he recently left his job, Chang has to sell investments he bought with stock options within 90 days — something he can't do now without taking a big loss.
But for other investors like James Day, a data management specialist in Ferndale, Michigan, the stock market swoon was a signal to buy low and boost his contributions to his 401(k).
"I'm not looking to retire tomorrow, so as far as I'm concerned, I have time," said Day, 43. "If I don't think I'm staring down the barrel of some long-term recession or unemployment, I look at these dips as an opportunity."
Investors can expect the volatility to continue at least until the market gets a better idea from the Fed on the timing of an interest rate increase, something many investors fear could put a damper on the U.S. economy.
Federal Reserve Vice Chairman Stanley Fischer said Friday that before the recent turbulence, there was a "pretty strong case" for raising rates in September. But he said the Fed is watching how events unfold.
Traders and strategists have often described the U.S. stock market as overbought. Even with the wild swings this week, investors are paying close to $18 for every $1 of earnings in the S&P 500 — above the $15 investors have historically paid for stocks after World War II.
"It's still an expensive market," said Kevin Dorwin, managing principal of San Francisco-based Bingham, Osborn & Scarborough. "We still need to see earnings growth or valuations improve, and absent that, it's hard to see how the market can move up."
Rob Lee, 64, of Melbourne, Australia, said he invests only small amounts of money in "very safe securities" because he wants to avoid the risk of sharp drops in the market like the one last week. But he added: "It'll bounce back. It always does."
ASSOCIATED PRESS