Aoun calls for a protest next Friday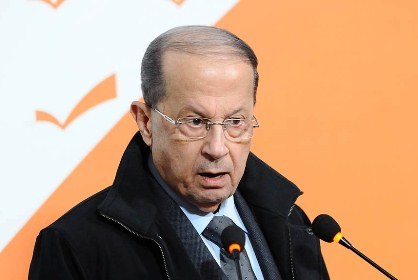 Former Patriotic Movement leader MP Michel Aoun urged his supporters on Friday to head to streets and protest next Friday " for reform , participation in decision-making and for fighting corruption."
During a press conference he reiterated his call for the election of a president from the people and announced his backing for protests.
"Legitimacy is given to the authorities by the people," he said, adding "no ruler can be legitimate if the people don't recognize his legitimacy."
He also said that his is the only partly that agreed with anti-government demonstrators who accuse the entire political class of corruption.
Aoun reiterated his demand for the approval of an electoral law based on proportional representation.
He also urged the formation of a government that introduces reforms.
"This is the only reformist plan," said the lawmaker, who is also a presidential candidate.
He told reporters that Lebanon's rulers have lost the people's backing because of rampant corruption, which is "blocking the state's arteries."
Aoun also urged friendly countries not to interfere in Lebanon's internal affairs to back the rulers whom he says have lost legitimacy.
"We are glad that the people woke up and began demanding their rights," he said, as he announced his backing for the latest street protests by the You Stink group.
Aoun served as the acting prime minister From September 22 , 1988 to October 13, 1990 when he was defeated by the Syrian army. Aoun then went into exile in France and returned to Lebanon days after the Syrian army withdrew from Lebanon. Aoun was accused of robbing the Lebanese treasury while he was the acting PM.
Aoun was asked about the boycott of FPM, Hezbollah, Tashnag Party and Marada Movement ministers of Thursday's cabinet session and whether they would hold onto their stance not to attend sessions.
"There are discussions to resolve the cabinet crisis," he said, adding that he didn't address the issue during the press conference to avoid stirring tension.
Lebanon Justice Minister Ashraf Rifi accused the Free Patriotic Movement of taking political advantage of You Stink" campaign and Hezbollah of infiltrating the protests by sending the " Saraya al-Muqawama ( resistance ) elements to stir riots."
Street protests against the government have turned violent after the You Stink group turned a trash crisis, which erupted last month, into a popular uprising against the political class that has dominated Lebanon since its civil war ended in 1990.
The "You Stink" movement is organizing another protest in downtown Beirut on Saturday at the Martyr's square , but Aoun said his supporters would not take part in it.
Aoun was replaced yesterday by his son-in-law Gibran Bassil who won uncontested the party leadership.
Aoun reportedly pressured his nephew Alain Aoun to quit the FPM leadership race which made way for Bassil to became the party's new leader.