Lebanon news updates for August 23
Here are the latest updates on current issues in Lebanon.
Violence against the "You Stink" protesters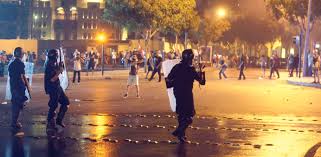 Politicians were united in denouncing the violence by the Police against the peaceful protest that took place last evening in downtown Beirut . They also all blamed Interior Minister Nuhad Mashnouk for authorizing the attack against the protesters .
Over 16 protesters were injured and one very seriously .
Education Minister Elias Bou Saab told LBCI: "I am not honored to be part of this government."
Al-Mashnouq is responsible for the attack on the peaceful protesters, he said.
"This is a dark day in Lebanon's history," Bou Saab added.
Progressive Socialist Party chief MP Walid Jumblatt ( who ordered all PSP participants in the protest to withdraw and who is famous for saying in 2004"I would rather be a garbage man in New York than a political leader in today's Lebanon") , used stronger words, saying "enough lying."
"Al-Mashnouq is responsible (for the use of force) and he should leave," he added.
But Al-Mashnouq said he is abroad and claimed that he has not asked police to open fire to disperse the protesters. He later ordered the release of all detained protesters .
Phalange Party leader MP Sami Gemayel called police action unacceptable
"unacceptable to deal with demonstrators this way." He said
"All options are available," he said when asked if the Phalange ministers would resign from the cabinet.
MP Nabil Nicolas suspended his membership in parliament until the officials responsible for the use of force against demonstrators are held accountable, he said.
Al-Mashnouq will reportedly cut his trip abroad short and will be back in Lebanon on Sunday.
State Prosecutor Judge Samir Hammoud ordered that investigations be opened in the downtown violence incidents, NNA reported
Update: Some of the "You Stink"  activists  gathered in Riad Solh Square on Sunday in front of the Government's  Serail  palace  after setting up tents last night.
You Stink activists told  LBCI: We demand that PM Salam  submits his resignation at once and we call for a massive demonstration at 6:00 pm.
Update:   Jumblatt  voiced his support to the You Stink activists but  warned them about the possibility that their cause is being hijacked by opportunists :
"Be wary of the forces of obstruction attempting to take advantage of this movement, particularly the forces that have obstructed the presidential elections, then the parliament, and now the Cabinet. This will harm domestic stability as well as the rightful demands of the people," he said, noting that he was keen on preserving civil peace at any price.
He was reportedly  referring  to FPM and its leader MP Michel Aoun who has been reportedly obstructing the presidential elections, the parliament and the Cabinet along with the Iranian-backed Hezbollah militant group.
Update : The You Stink protesters marched  from Riad al-Solh to the Banks street .
Update: The You Stink  campaign has started paying dividends ….LBCI reported that the environment minister declared advancing the date of announcing the winning waste management bids from Tuesday to Monday.
NNA  reported that protesters have blocked the Dahr al-Baidar international highway in solidarity with the You Stink Protesters
Update: Commenting on the You Stink campaign Former PM Saad Hariri was quoted as saying:" We condemn any form of excessive force against peaceful demonstrations but toppling the government would plunge Lebanon into the unknown."
Update:
LBCI reported that the sounds of percussion bombs are being heard at the downtown Beirut protest.
– The You Stink campaign has asked security forces to clear the sit-in's square of "infiltrators."
Updates
Commenting on the You Stink campaign , Lebanese Forces leader Samir Geagea said The grievances of the protesters are our grievances. The garbage crisis has reached an unaccepted level."
"There is rampant corruption and incompetency. The demands that are being voiced at the Martyrs Square are legitimate and I voice solidarity with the protesters." He said .
Geagea added:" Those in Martyrs Square must remain there until MPs head to parliament and elect a new president."
Commenting on PM Salam's threat to resign he said .
"I call on PM Tammam Salam not to resign. He is responsible for maintaining legitimacy in the country until the election of a new president."
He added:
"I call on the PM to call an immediate cabinet session. The government must seek to collect the garbage from the streets and to find a solution."
He urged the protesters to preserve the public order or else they would be harming their legitimate demands.
Update
Several protesters were injured and some fainted after security forces fired tear gas in Riad al-Solh.
National News Agency reported that infiltrators hurled Molotov cocktails at security forces in downtown Beirut.
NNA reported that Civil Rights Activist Imad Bazzi declared Sunday that "You Stink" Campaign "is in no way connected with the incidents in Riad Solh Square," and accused "some political parties of sending their members to aggravate tension, causing chaos and confusion."
Ain El Helweh camp
Following yesterday's assassination attempt in Ain el-Hilweh refugee camp against top Fatah Security official Abou Ashraf al-Armoushi the camp has been witnessing a lot of tension.
Palestinian leaders are reportedly set to hold a special meeting today at Ain El Helweh Palestinian Refugee camp to agree on a ceasefire.
Despite a ceasefire agreement reached during the night, intermittent clashes continued well into the night between Fatah Movement and Jund el Sham militants. RPGs and grenades were used in the fighting, while sniper fire cut off most of the roads of the Palestinian refugee camp, NNA reported .
The clashes left three people dead and 20 injured . Even the Lebanese Armed Forces were not spared, as gunfire targeted their posts at the entrances of the Camp.
Heavy gunfire broke out between the Fatah movement and extremist Islamic groups in Ain el-Hilweh on the al-Safsaf-Taytaba axis, VOL (100.5) Radio Station reported.
NNA reported that a Palestinian national was injured in al-Fouqani street when gunfire renewed early morning in Ain el-Hilweh.
Violence in Sidon

NNA reported that at around 8 a.m. on Sunday the neighborhoods of Baasiry and Njassa in Sidon, south Lebanon fell under heavy sniper fire which did not spare Martyrs' Square as well as the roads and building facing Ain el Helweh Palestinian Refugee Camp.
PM Salam
Prime Minister Tammam Salam in a TV appearance delivered a statement against the backdrop of Saturday's Downtown clashes: "Lebanon and the people are passing through difficult times which compels the necessity for each to shoulder responsibility".
"Yesterday's incidents are a huge responsibility. Peaceful demonstrations should be protected." He stressed and added:
"Our country is going backwards while other countries are progressing."
" All parties responsible for the violence against the protesters will be held accountable."He stressed.
He added : " I have hinted before that intended to resign but the people's will stopped me."
He said his first item on te agenda of next week's cabinet session is the garbage issue
"The first item on the cabinet agenda is the waste-management crisis."