Brazilians in mass protests demand Rousseff's impeachment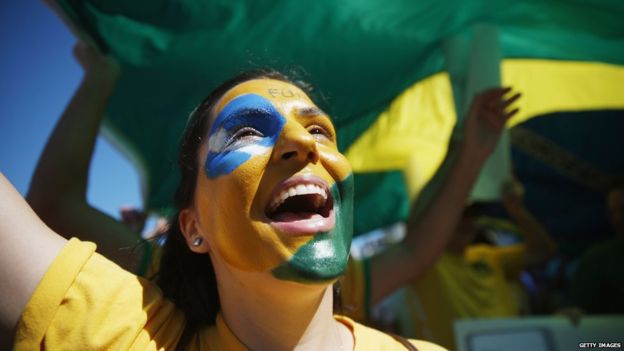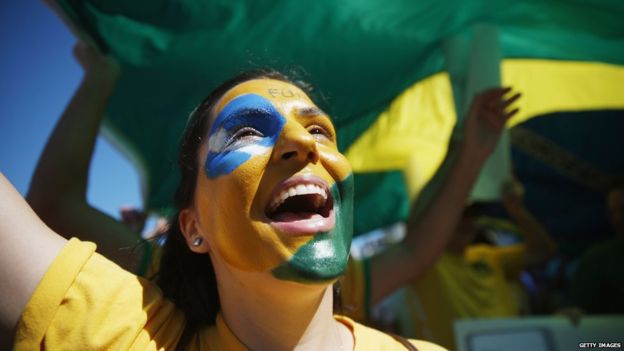 Tens of thousands of protesters across Brazil called on President Dilma Rousseff to step down Sunday, blaming her and the leftist Workers' Party for the corruption and economic troubles besetting Latin America's biggest country
Huge crowds chanting "Dilma out!" and singing the national anthem paraded through the capital Brasilia and Rio de Janeiro, many of them dressed in the yellow national football shirt.
Police said some 137,000 people took part, with the number sure to rise significantly as another protest got under way in Sao Paulo, Brazil's biggest city and financial capital. Organizers put the early figure at 225,000.
In Rio, the 2016 Olympic host city, an Olympic bicycling test event had to be rerouted because of the demonstrations along the Copacabana Beach seafront, all part of the nation's third big street protests against Rousseff this year.
Crowds were boisterous but peaceful, watched at a discreet distance by squads of paramilitary police.
"We want things to change and if the people don't go in the street that's impossible," said retired engineer Elino Alves de Moraes, 77, in Brasilia, calling for Rousseff and her "gang" to be jailed.
Less than a year into her second term, Rousseff is on the ropes as the world's seventh-largest economy slides into recession.
Austerity measures have replaced the economic go-go years fueled by Chinese demand for commodities, while an ever-expanding bribes and embezzlement probe centered on state oil company Petrobras is ripping through the country's elite.
In April, at least 600,000 people turned out against Rousseff and her Workers' Party (PT) and more than a million in March.
The extent and intensity of Sunday's protests will be key in determining support for calls from some in Congress for Rousseff to be impeached.
Globo news site reported that the president was planning to discuss the situation with ministers later Sunday, but had not decided whether to speak publicly.
Blaming Rousseff
In Rio, there was a carnival-like mood, with samba music blasting from speakers on a truck, some protesters carrying surfboards, others riding skateboards, and many wearing bikinis or bathing suits.
A vintage army jeep driven by a man in a red army parachutist's beret joined the procession, which also featured a man dancing in a Batman costume and another wearing a clown's red nose.
But protesters said they were totally serious about wanting Rousseff and the Workers' Party out.
"They're looting Brazil, stealing everything," said Jorge Portugal, 63, who is retired from a job in marketing.
"They're implementing communism and we're not communists."
Joao Oliviera da Silva, standing in the heat selling national flags to the passing protesters, said he also blamed Rousseff for Brazil's decline.
"What's happening in Brazil is a scandal!" said the 57-year-old street vendor, who was missing several teeth. "And everything happened under her."
Impeachment threat
Prosecutors running the Petrobras probe have brought charges against a who's who of Brazilian movers and shakers, including the billionaire head of the global construction company Odebrecht and a navy admiral once tasked with overseeing a secret nuclear program.
Rousseff's Workers' Party has been badly shaken by the scandal and she has been tainted by association, even if not directly implicated. Her party's treasurer was among those arrested in April.
Even Rousseff's presidential predecessor, Workers' Party hero Luiz Inacio Lula da Silva, is being investigated in an unrelated influence peddling probe.
Sensing blood, some in Congress are calling for impeachment.
A key figure in the fragile governing coalition, House Speaker Eduardo Cunha, defected in July and is considering whether to pull the trigger on the proceedings.
Analysts say Rousseff, who lacks the charisma of Lula, is looking for a behind-the-scenes solution.
Earlier this week, she and Senate President Renan Calheiros, who is also being investigated in the Petrobras affair, agreed to a market-pleasing package of reforms called the Brazil Agenda.
The deal takes Rousseff ever further from her socialist roots, but could help lure her right-wing opponents from the cliff edge by giving them a plausible reason to cooperate rather than impeach.
FRANCE 24/AFP