South Korean, 80, sets himself on fire in anti-Japan protest
An 80-year old South Korean set himself on fire on Wednesday during a protest calling for Japan to apologize for forcing Korean girls and women to work in military brothels during World War Two, days ahead of the anniversary of the end of hostilities.
The self-immolation occurred during a regular weekly demonstration outside the Japanese embassy ahead of the Aug. 15 anniversary marking 70 years since the end of Japan's colonial occupation of the Korean peninsula.
With the anniversary looming, Wednesday's protest was larger than usual, with about 2,000 demonstrators, including three of the 47 known surviving Korean "comfort women", as they were euphemistically called by Japan, organizers said.
Bystanders covered the man with protest banners to put out the flames and paramedics took him to hospital.
The man, identified as Choi Hyun-yeol by a civic group with which he was affiliated, was in critical condition with burns to his neck, face, and upper torso, a hospital professor said.
"The patient is old and has severe burns so his survival can't be guaranteed," the professor told reporters.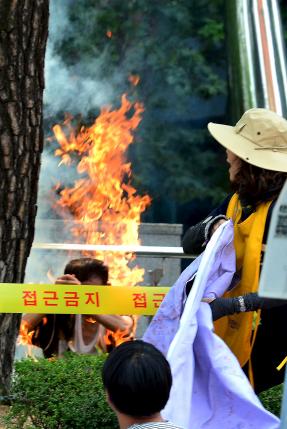 Choi's father was a member of an anti-Japanese independence movement in 1932 and jailed for a year, according to a statement posted online by the civic group, which advocates for the rights of forced labor victims. Choi became a supporter of the group last year.
In South Korea, Japan's 1910-1945 colonization of the Korean peninsula remains a sensitive subject.
South Korea's ties with Japan have long been strained by what Seoul sees as Japanese leaders' reluctance to atone for the country's wartime past, including a full recognition of its role in forcing Korean girls and women to work in brothels.
REUTERS