Aoun getting ready to surprise the Lebanese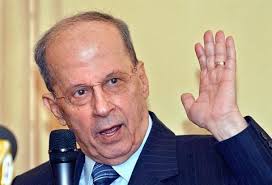 Free Patriotic Movement leader MP Michel Aoun remained silent on planned street protests against the extension of high-ranking military officers but stressed that he will "surprise" the  Lebanese people on his next step.
"You will see at the appropriate time and you will get surprised," al-Joumhouria newspaper  on Tuesday quoted Aoun as saying.
Aoun's  statement was in response a question  asked by several people,  what is  his next steps said the newspaper.
Aoun called Saturday on his supporters to get ready to stage demonstrations against the  extension  of the term of top military officials , after Defense Minister Samir Moqbel decided to extend the terms of the army commander, the chief of staff and the head of the Higher Defense Council.
FPM has been campaigning against the extensions, calling for the appointment of new officials instead.
Aoun wants his son-in-law Brig. Gen. Chamel Roukoz, who is the Commando Regiment chief, to  replace Jean Kahwaji as the  army commander.
Change and Reform sources told al-Mustaqbal daily that street protests could be culminated with civil disobedience if a deal that Aoun is seeking for is not reached.
"Aoun is still waiting for the results of contacts on the amendment of the defense law," they said.
The amendment was proposed by General Security chief Maj. Gen. Abbas Ibrahim, who is seeking to clinch the deal to appease Aoun and avoid a growing political crisis.
The law's amendment would raise the retirement age of the top military and security brass, thus keeping Roukoz in his post and giving him a chance to become a candidate for the army leadership in the future.
But former Lebanese prime minister and head of Future Movement parliamentary bloc, MP Fouad Siniora, rejected the initiative launched by General  Abbas Ibrahim .
"I knew that there is madness but I didn't think for a second that we would reach a stage of beyond madness," Siniora told As Safir newspaper  in remarks published on Monday.
"Honestly, the army is being destroyed. I can't find better words to put it," he said.
The lawmaker also rejected statements that Ibrahim's proposal would "straighten things up" after a decision by Defense Minister Samir Moqbel to extend the terms of several top military officials angered Free Patriotic Movement leader MP Michel Aoun.
"Aoun has been given one hundred ladders but he has refused to use any of them and decided to stay on the tree," said Siniora.
Aoun's allies seem to be dumping him
Marada leader MP Suleiman Franjiyeh , Aoun's  top Christian ally  said today that Kahwaji is  his friend and he has no intention to join Aoun in his protests against the army.
Speaker Nabih Berri, who ruled out Aoun as a future head-of-state, added salt to injury  when he told several visitors, according to the usually well informed Al Nahar daily, that the FPM's recent maneuvers  in the cabinet—which was topped by an unprecedented shouting match between the foreign minister and his prime minister on July 9, 2015—proved fatal for a Roukoz appointment too.
Berri is Hezbollah's closest ally
Government sources revealed to the al Jamhouriah  newspaper  that "Hezbollah"  handed over to his allies including General Michel Aoun, a brief message calling for   the need for restraint to the maximum limits, and not to get involved in any confrontation with the army
Berri's  criticism of Aoun could very will signal that Hezbollah has finally decided that the former general has  become a huge liability , according to observers .