Siniora: We reached a stage of beyond madness to destroy the army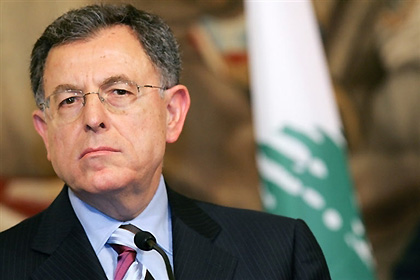 Former Lebanese prime minister and head of Future Movement parliamentary bloc, MP Fouad Siniora, rejected the initiative launched by General Security chief Maj. Gen. Abbas Ibrahim which calls for raising the retirement age of the army and security officers for three years.
"I knew that there is madness but I didn't think for a second that we would reach a stage of beyond madness," Siniora told As Safir newspaper published on Monday.
"Honestly, the army is being destroyed. I can't find better words to put it," he said.
"Aside of the financial part, the proposal has destructive effects on the structure of the military institution," said Saniora.
The lawmaker also rejected statements that Ibrahim's proposal would "straighten things up" after a decision by Defense Minister Samir Moqbel to extend the terms of several top military officials angered Free Patriotic Movement leader MP Michel Aoun.
"Aoun has been given one hundred ladders but he has refused to use any of them and decided to stay on the tree," said Siniora.
But FPM officials told As Safir that the approval of Ibrahim's initiative does not hinge on Siniora's stance.
The officials, who were not identified, hinted that Progressive Socialist Party chief MP Walid Jumblatt can guarantee the required majority in the parliament to amend the defense law to raise the retirement age of the top military brass.
Aoun is not stuck on a tree so he does not need a ladder to go down, the sources said.
"We have never and we will never search for the ladders of humiliating settlements," they told As Safir.
The controversy on the appointment of high-ranking military and security officials erupted when Aoun insisted on bringing his son-in-law Brig. Gen. Chamel Roukoz, who is the Commando Regiment chief, as army chief.
"Repulsive and irresponsible"
In a related development Speaker Nabih Berri has said that Aoun lost the opportunity of appointing his son-in-law as army chief by rejecting the names proposed by Defense Minister Samir Moqbel.
Berri, whose remarks were published in local dailies on Monday, told his visitors that an opportunity, which will not come again, has been lost.
He said Aoun "waged the wrong battle and his representatives (in the cabinet) did not take the advantage of Moqbel's proposal of a series of candidates for the army leadership," including Roukoz.
"We are wasting time with repulsive and irresponsible behaviors," he said in reference to Aoun's behavior over the military appointments