Aoun decides to call for street protests over term extension of military officials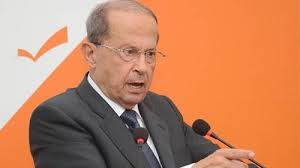 Free Patriotic Movement leader MP Michel Aoun commented to Voice of Lebanon (93.3) Radio station minutes ago regarding the term extension of military officials:
"The bloc's decision to confront and take to the streets was taken a while ago."
The decision reportedly came Friday after Aoun held intense consultations to come up with a strategy to confront a decision by Defense Minister Samir Moqbel to extend the terms of top military officials.
Moqbel extended on Friday the terms of the Army commander, chief of staff and the head of the Higher Defense Council despite months of objections by the FPM, which rejects the extension of the tenures of high-ranking military and security officials.
Army chief of staff Maj. Gen. Walid Salman was due to retire Friday. Army chief Gen. Jean Kahwaji's term ends on Sept. 23.
Commenting on Aoun's decision, Telecommunications Minister Boutros Harb told Voice of Lebanon (100.5) Radio station : Aoun has the right to take to the streets but I hope that he does not make that mistake.

Warning against Street Protests
Several top diplomats have advised Lebanese officials to avoid moves that would hit the country's stability over a dispute on the appointment of top military and security officials, local newspapers reported on Friday.
Al-Joumhouria daily said that the diplomats, mainly U.S. Ambassador David Hale and Russia's Ambassador Alexander Zasypkin, delivered messages to several Lebanese officials on "the importance of respecting the current stability and not to involve the country in any adventure whose repercussions are not known."
An Nahar newspaper specifically reported that the "U.S.-Russian" message was delivered to Aoun.
It said that the ambassadors advised Aoun to be "wise" and resort to the political opposition to certain controversial issues rather than to the streets.
The diplomats warned him that street protests would jeopardize the country's stability, harm the military institution and paralyze the government.