Syrian FM: Airstrikes against ISIS should be coordinated with Damascus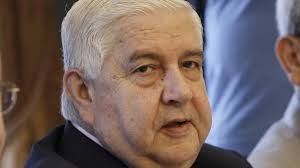 Syrian Foreign Minister Walid al-Moallem said Damascus backs any side willing to fight the Islamic State "on condition that it coordinates with the government or else it would violate Syria's sovereignty."
His comment comes after Turkish FM Mevlut Cavusoglu said on Wednesday that U.S. aircraft and drones are arriving in Turkish air bases and a comprehensive battle against Islamic State militants in both Syria and Iraq will be launched soon.
Al-Moallem made the statement in Tehran where he arrived Tuesday for talks with officials from Syria's allies Iran and Russia that are expected to focus on efforts to ending the civil war in his country.
He reportedly met Mikhail Bogdanov, Russian President Vladimir Putin's special envoy to the Middle East, later Tuesday evening and will be holding talks with Iranian Foreign Minister Mohammad Javad Zarif Wednesday, Iranian media reported.
Speaking about Moualem's visit, Iranian deputy foreign minister Hossein Amir-Abdollahian suggested the chances of a diplomatic resolution of the war were growing. "Fortunately we see a change in the strategy of regional players in the Syrian crisis. If four years ago they believed war is the only solution, now they prefer to focus on diplomacy," he was quoted as saying by Fars News Agency.
In a related development reports are surfacing about possible changes toward Syria by both Russia and Iran
Turkey's Prime Minister Recep Tayyip Erdogan was quoted Monday as saying that Russian President Vladimir Putin may be ready to "give up" on Syrian President Bashar Assad.
"(Putin) is no longer of the opinion that Russia will support Assad to the end. I believe he can give up Assad," Erdogan was quoted as saying in Turkey's Daily Sabah newspaper.
Some in Washington, are reportedly looking to Iraq where Iran had a favorite politician but was able to see him leave office without Tehran losing influence.
If both Russia and Iran pulled their safety nets out from under Assad, the regime would likely be severely weakened. Hezbollah is reportedly there because Iran demands it.