Jewish extremist behind recent terror attacks gets 6 months in jail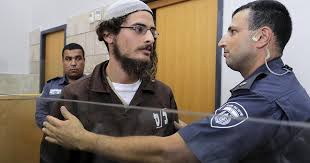 Israel has jailed a Jewish extremist for six months without charges or trial, expanding a crackdown against militant Jews and deploying a contentious measure typically used for Palestinians suspected of staging attacks.
This was the first time the measure, known as administrative detention, was applied against an Israeli since the crackdown began following a pair of deadly attacks last week.
Defense Minister Moshe Yaalon signed an order late Tuesday that jails extremist Mordechai Meyer, from the West Bank settlement of Maaleh Adumim, for six months.
A statement from Yaalon's office said Meyer, who Israeli media reported to be 18 years old, was being held in connection to "his involvement in violent activities and recent terror attacks."
The ministry would not elaborate on the suspicions against him. But Israeli media said Meyer was suspected of links to attacks against an important church in northern Israel and another in Jerusalem, as well as attacks on Palestinian property. He has previously been banned from the West Bank and Jerusalem, Israeli media also said.
The detention intensifies a crackdown on Jewish militancy that came after two deadly attacks last week.
On Friday, suspected Jewish extremists torched a West Bank home, an arson attack in which a Palestinian toddler was burned to death and his parents and 4-year-old brother were seriously wounded. A day earlier, an anti-gay ultra-Orthodox man stabbed six people at Jerusalem's Gay Pride parade, and one of them — a 16-year-old girl — later died of her wounds.
Prime Minister Benjamin Netanyahu has pledged "zero tolerance" for Jewish terrorism and Israel authorized a series of steps, including administrative detention, to help stamp out the trend.
On Tuesday, authorities also arrested Meir Ettinger, a high-profile activist accused of leading a new movement of defiant settler youths who embrace violence and reject the rule of law in the name of the purity of the Holy Land.
Ettinger, 23, was not being held under administrative detention but was arrested for "involvement in an extremist Jewish organization." The Shin Bet security agency would not say if Ettinger is also suspected in the West Bank arson attack.
Administrative detention is typically used against Palestinians who can be held for months or even years without trial or charge. The measure is rarely applied against Israelis. Israel has defended the administrative detention of Palestinians as a necessary tool for preventing militant attacks.
Meyer's lawyer, Adi Keidar, told Israeli Army Radio that there were "less drastic steps" Israel could use to pursue an investigation against his client. He said he opposed the measure, both for Israelis and Palestinians.
"Legally speaking, you can't take a person and put him in jail, without having evidence against him," Keidar said.
Q&A: A look at the history of Jewish extremism in Israel
The arrest of a well-known Jewish extremist marks Israel's first concrete step in its new "zero tolerance" approach toward what the government describes as Jewish terrorism. A recent pair of attacks brought into the open long-standing fears about a radicalized and ultraconservative fringe that had been operating below the radar but now appears to be intensifying its violence.
Israel's Shin Bet security service says 23-year-old Meir Ettinger, grandson of the late ultranationalist Rabbi Meir Kahane, was arrested for "involvement in an extremist Jewish organization" that was seeking to bring about religious "redemption" through attacks on Christian sites and Palestinian property.
With its focus primarily on preventing Palestinian attacks, Israeli authorities now pledge to direct more resources toward domestic assailants who have been allowed to operate with relative impunity. The threat is nothing new, but authorities indicate they can no longer overlook the violence.
Here's a look at the phenomenon and what it means for Israel.
WHAT HAS HAPPENED?
On Wednesday, the Shin Bet singled out Ettinger when it announced it had cracked the June arson attack on the Church of the Multiplication of the Loaves and Fish, a prominent Catholic church near the Sea of Galilee. It accused Ettinger of heading a movement of young settler activists who were responsible for the torching and a number of other hate crimes. Two of them were indicted for burning the church.
The next day, an anti-gay ultra-Orthodox extremist stabbed six revelers at Jerusalem's Gay Pride Parade, and one of them — a 16-year-old Jewish girl — later died of her wounds. Then, on Friday morning, suspected Jewish assailants set fire to a West Bank home, burning a Palestinian toddler to death and seriously wounding his parents and 4-year-old brother.
Israel has responded with outrage. President Reuven Rivlin visited the Arab victims in hospital and expressed his shame over those who "have lost their humanity." Extremists have since threatened him and posted images of him in Nazi garb and a Hitler-like mustache, invoking memories of the kind of incitement that preceded the 1995 assassination of Prime Minister Yitzhak Rabin.
WHO ARE THE ATTACKERS?
No one knows for sure who exactly was behind Friday's arson but because of the target and Hebrew graffiti found on the charred home, suspicion immediately fell on Jewish settler extremists. So-called "price tag" attacks have been used by Jewish settlers for years to avenge both Palestinian attacks and also official Israeli steps they see as favoring the Palestinians.
The suspects generally belong to a group known as the "hilltop youth," radicalized Jewish teen squatters on unauthorized settlement encampments on West Bank hilltops. Members of the group have been behind a series of vandalism attacks against Palestinian homes, agriculture and livestock, as well as mosques, churches and even Israeli schools and military bases.
The attacks have been condemned by the entire political spectrum as well as the mainstream settler leadership. Jewish assailants have traditionally drawn their inspiration from a small group of zealous settler rabbis. But Shlomo Fischer, senior fellow at the Jewish People Policy Institute and an expert on radical Jewish extremism, said these new-age messianic attackers "conceive of themselves as having a sort of charismatic-prophetic authority and what authorizes these extreme actions is 'the voice of God' within them."
WHAT DO THEY WANT?
It's not entirely clear. Initially seen as a pressure tactic on the government to cease making concessions to Palestinians and support settler expansion, the movement has now taken on more of a religious bent, going so far as to call for a revolution that alters the nature of Israel.
The Shin Bet says Ettinger's group vandalized a number of Christian religious sites in the past two years and tried to disrupt the 2014 visit by Pope Francis to the Holy Land. Through a blog peppered with biblical references, Ettinger rails against Christians and other "idol worshippers" that undermine Israel's Jewish nature. He also attacks the country's liberal and pluralistic foundations. "There are many, many Jews, many more than people think, whose value system is completely different than that of the Israeli Supreme Court or the Shin Bet," he wrote in a July 30 post. "The laws they are bound by are not the State's laws … but laws that are much more eternal and real."
WHAT IS "JEWISH TERRORISM?"
In many ways, Ettinger's grandfather is the godfather of modern Jewish militancy. Kahane's Kach party was outlawed in Israel and labeled a terrorist organization by the United States. While the Orthodox rabbi himself mostly preached for the expulsion of Arabs from Israel, his followers took on more tangible forms of violence. The most prominent was Baruch Goldstein, who shot and killed 29 Muslim worshippers in 1994 at the Cave of the Patriarchs in Hebron. A handful of others either planned or carried out attacks on Arabs.
Until recently, Israel has been reluctant to deem "price tag" activists as terrorists. Their attacks have mostly not been deadly and they've generally been regarded as teenage vandals and thugs, an embarrassment more than an actual threat.
HOW IS ISRAEL RESPONDING?
Across the board, there has been an outpouring of condemnation and grief. Thousands took to the streets to protest the attacks and well-wishers have flocked to the hospital where the wounded Palestinian family is being treated. All the political parties have condemned the attack and parliament convened a special session Tuesday to discuss the latest events, calling for soul searching.
The government has also provided security services more tools at their disposal. The Cabinet officially called the firebombing "a terrorist attack in every respect" and authorized the Shin Bet greater leeway to hold suspects without trial or charges, a tool that has been deployed against Palestinian militants.
Yoav Limor, a military columnist at the conservative Israel Hayom newspaper, said the latest moves suggest Israel "has decided to drop the kid gloves" and will likely round up more activists to "shake the tree in hopes that some fruit will fall to the ground" in the form of intelligence that helps solve the latest arson attack and thwart future ones.
Netanyahu has also urged the world to be as forceful in its condemnation of attacks against Jews as it was in the deadly attack against Arabs.
ASSOCIATED PRESS/ MY WAY