Gemayel accuses Hezbollah , Aoun of pushing the country towards suicide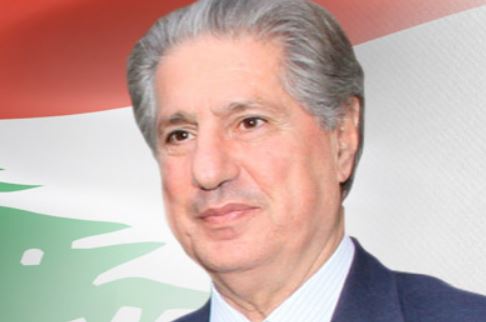 Former Lebanese president Amin Gemayel accused Hezbollah and its ally the Free Patriotic Movement of crippling the functioning of the government through their tactics, saying that the paralysis of the state ends with an initiative on their part, Asharq al-Awsat newspaper reported on Sunday.
He told the daily: "Some sides are pushing the country towards suicide through their efforts to empty state institutions."
"Given their insistence to obstruct government work, after imposing a vacuum in the presidency, the cabinet is practically resigned because it is no longer able to function ," he said.
"We are passing through extraordinary circumstances that obligate ministers to perform their duties and to take extraordinary measures to revitalize state functioning," Gemayel said.
"We are unfortunately witnessing excessive acts that are pushing us towards fatal vacuum," he noted.
"Mistaken are those who believe that the vacuum will push us to change the current system," he stressed in a possible reference to Hezbollah's desire to scrap the Taif accord to change the power sharing formula for Lebanon.
While the Taif accord calls for equal power sharing between Christians and Muslims , Hezbollah reportedly wants to change the power sharing formula by giving equal share to Shiite Muslims , Christians and Sunni Muslims. Aoun reportedly is in favor of this change because Hezbollah promised him the presidency.
"Such measures require the minimum amount of consensus that is completely missing over minor issues at the moment, so how can it be reached over major national ones?" he told Asharq al-Awsat.
The Change and Reform bloc's decision to obstruct the government's decision making mechanism during cabinet sessions has led to paralyzing its ability to address key pressing issues.
The Lebanese parliament failed earlier this month and for the 26th time in a row to elect a president to replace Michel Suleiman whose term ended on May 25.
As in the past sessions the parliament was unable to reach a quorum because the Iranian backed Hezbollah militant group and its ally Aoun's Change and Reform bloc MPs boycotted the sessions.