France finds Iran unwilling to resolve Lebanon presidential crisis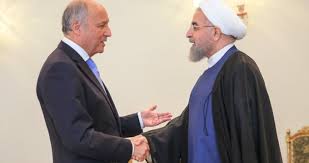 During his one day visit to Tehran French Foreign Minister Laurent Fabius urged his Iranian counterpart Mohammad Javad Zarif to exert efforts to end Lebanon's presidential crisis, al-Hayat newspaper reported on Thursday
An Iranian sources told al-Hayat that Fabius told Zarif about the importance of contacting Lebanese parties that are allied with Iran to urge them to find a solution to the impasse.
But Zarif reportedly said it was not up to the Iranian foreign ministry to interfere in the issue, and urged Fabius to discuss the matter with President Hassan Rouhani.
When the French official brought up the issue during his talks with Rouhani, the Iranian leader completely distanced himself from the matter and avoided the issue all together .
The Hayat sources quoted Fabius as saying that "we had hoped that Tehran would make a step to boost confidence and cooperate on the Lebanese presidential issue ."
During his meeting last week with Fabius in Paris , Progressive Socialist Party leader Walid Jumblatt said it was up to Iran to facilitate the stalled Lebanese presidential.
"We should wait for what the Iranian side will ask for during the meeting with Fabius ," Jumblatt said, in remarks published last week by Al-Hayat.
"If there was a good Iranian intention then this would facilitate matters relating to the Lebanese presidency and a consensus candidate," he said. "But if the Iranians want to respond to the French position, which was more rigid during the negotiations on the nuclear program, then they will not get assistance."
Furthermore, Jumblatt argued that if Iran has bad intentions regarding the stalled presidential election in Lebanon, then this suggests Tehran was seeking to change the Taif Accord, a 1989 agreement reached in Saudi Arabia to end the decades-long Lebanese Civil War.
"If the Iranian side does not give Fabius [a free hand] to facilitate the Lebanese presidential election and if there are signs of inflexibility in discussing ways to set the agenda at the Cabinet's next meeting, then this means Iran – which believes it has scored a major victory in the nuclear agreement – hopes to change the Taif Accord, since Gen. Michel Aoun is Hezbollah's ally and does not take any initiative without the party," Jumblatt said.
The Lebanese parliament failed earlier this month and for the 26th time in a row to elect a president to replace Michel Suleiman whose term ended on May 25.
As in the past sessions the parliament was unable to reach a quorum because the Iranian backed Hezbollah militant group and its ally Aoun's Change and Reform bloc MPs boycotted the sessions.
Speaker Nabih Berri who is allied with Hezbollah told visitors on July 15 that the Iranian nuclear deal could help pave the way to ending major conflicts in the Middle East, and the presidential vacuum in Lebanon.