Obama marching Israelis to 'door of oven', Huckabee claims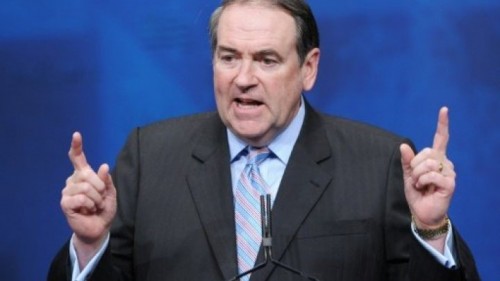 White House contender Mike Huckabee is warning that President Barack Obama is marching the Israelis to the "door of the oven" by signing off on the nuclear deal struck between Iran and six world powers.
Huckabee, a leading Christian Zionist and former Arkansas governor who lost a 2008 presidential bid, made his allusion to the Holocaust during an appearance on the conservative "Breitbart News Saturday" program.
"This president's foreign policy is the most feckless in American history," Huckabee said, in reference to Obama.
"It is so naive that he would trust the Iranians. By doing so, he will take the Israelis and march them to the door of the oven."
Iran clinched the agreement with Britain, China, France, Germany, Russia and the United States two weeks ago.
The Islamic republic promised to dismantle or mothball much of its nuclear industry, including by reducing its uranium stockpile by 98 percent, in return for an easing and eventual lifting of international sanctions against Tehran.
Israel has fought vigorously against the deal, with Prime Minister Benjamin Netanyahu denouncing the "historic mistake."
"This is the most idiotic thing, this Iran deal," Huckabee said.
"It should be rejected by both Democrats and Republicans in Congress and by the American people… We gave away the whole store. It's got to be stopped."
Representative Debbie Wasserman Schultz, the Democratic National Committee chair, pressed Huckabee to apologise for his incendiary remarks.
"This rhetoric, while commonplace in today's Republican presidential primary, has no place in American politics," she said in a statement.
"Cavalier analogies to the Holocaust are unacceptable. Mike Huckabee must apologise to the Jewish community and to the American people for this grossly irresponsible statement."
France 24/AFP