1 killed by blast at Italian Consulate in Cairo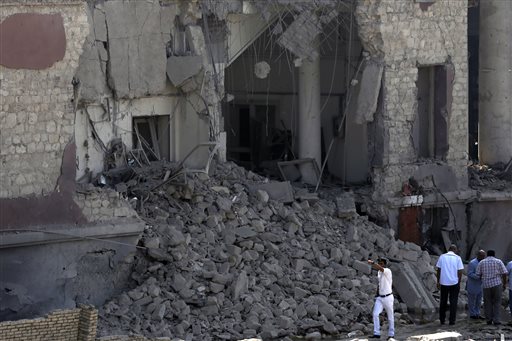 Italy's foreign minister vowed that his country would not be intimidated after a deadly explosion Saturday morning killed one person and heavily damaged the Italian Consulate in the Egyptian capital.
In a message on his official Twitter feed, Paolo Gentiloni wrote, "Our thoughts are with the people affected and with our personnel. Italy will not let itself be intimidated."
The blast went off Saturday morning after 6 a.m. Heath Ministry official Hossam Abdel-Ghaffar told The Associated Press that at least one person was killed in the blast, and four others injured. Abdel-Ghaffar said the victim had not been identified but that his limbs were severed, suggesting the victim was close to the explosion.
An Italian diplomat said the consulate was closed at the time and no staff members were wounded in the blast.
A security official said the exact cause of the explosion was still unclear and there has been no claim of responsibility yet. However Egypt is in the midst of a rising wave of violence in recent weeks between government forces and Islamic militants. Less than two weeks ago, the country's chief prosecutor was killed in an explosion near his home in Cairo as he was heading to work. Days later, militants waged a coordinated and protracted attack on military installations in the restive northern Sinai province, leaving at least 17 soldiers dead in one of the most brazen attacks on troops in the area.
Another security official said investigators are looking the possibility of a car bomb; remains of a car were found in the area of the explosion. All officials spoke on condition of anonymity as they were not authorized to brief the media.
The state-owned Middle East News Agency quoted a security official as saying investigators are looking into whether an explosive device was placed under a car parked near the building.
The blast ruptured underground water pipes, flooding the area. It heavily damaged the distinctive early 20th century building that once housed a school and became the Italian Consulate after World War II. Charred car parts were scattered onto the street. Several floors of the consulate were destroyed on one side, leaving a gaping hole with bricks spilling from it and its red facade peeling off.
"I was sleeping when the explosion went off, it blew in my window and when I went outside the air was full of dust," said Ahmed Hasan, 20, a neighbor whose leg had minor cuts. He said the bomb went off at 6:20 am and he saw someone with a severed leg.
Civilians gathered around the area of the explosion, as police cordoned off the streets leading to the consulate. Several foreign journalists were briefly detained on the scene by police but later released.
The consulate sits on one of the busiest intersections in downtown Cairo, along a major artery that connects Ramsis Square to the heart of the capital. The surrounding area includes a large hospital, a major police station surrounded by blast walls, a central ambulance dispatching station and the state-owned flagship newspaper Al-Ahram.
ASSOCIATED PRESS/MY WAY