Turkey reinforces Syria border, but no incursion planned says PM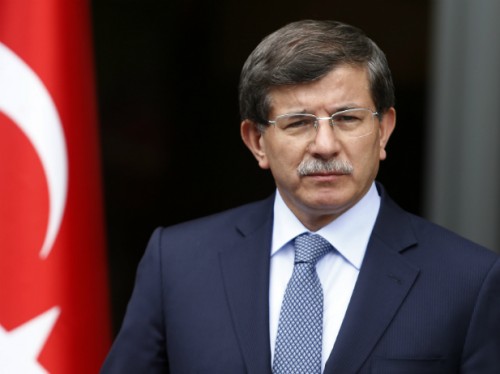 Turkey has deployed additional troops and equipment along part of its border with Syria as fighting north of the city of Aleppo intensifies, security sources said, but Prime Minister Ahmet Davutoglu said there were no immediate plans for any incursion.
Security sources and officials in the capital, Ankara, said the Turkish army had stepped up security, also sending in special forces, due to the heavy fighting.
Syrian insurgents led by Islamist groups began a major offensive for full control of the divided northern city, a monitor and rebels said on Thursday, a move which would be a major blow for President Bashar al-Assad.
"It's correct that we have taken precautions to protect our border. If there's any circumstance across the border that threatens Turkish security, orders to act have been given," Davutoglu told broadcaster Kanal 7.
"(But) no one should have the expectation that Turkey will enter Syria tomorrow or in the near term," he said.
Some media had speculated an imminent cross-border operation was being planned.
"If anything occurred that were to threaten Turkish security, we wouldn't wait for tomorrow, we would go right in," Davutoglu added.
"But it's wrong to expect that Turkey would undertake such a unilateral intervention in the immediate term if there is no such risk."
Asked about the possibility of Turkey establishing a 'secure zone' in Syria, U.S. ambassador to Ankara John Bass said Turkey and the United States had a shared concern about the presence of hardline Islamic State militants in northern Syria.
"We are continuing to work together to address the threat that poses to both our countries and many other countries as part of our joint effort," he said at a reception in Ankara.
The U.S. State Department said it had no "solid evidence" that Turkey was considering a buffer zone in Syria.
Intense fighting, including explosions, could be heard from the Turkish border town of Kilis late on Thursday, about 50 km (30 miles) north of the Syrian city of Azaz, witnesses said.
The security sources said the Azaz fighting was between Islamic State militants and a joint force of al Qaeda's Syrian offshoot Nusra Front and Western-backed rebels, who have been clashing in the north Aleppo countryside for weeks.
Davutoglu said Assad, whose forces and allied militias hold western districts of Aleppo, had been cooperating with Islamic State militants in attacking the moderate opposition.
He said Syrians in Aleppo would not receive basic necessities if the city was cut off by fighting, creating a massive new influx of people to Turkey, which is already sheltering more than 1.8 million Syrian refugees.
REUTERS