PM Salam warns: I won't allow anyone to challenge me or the government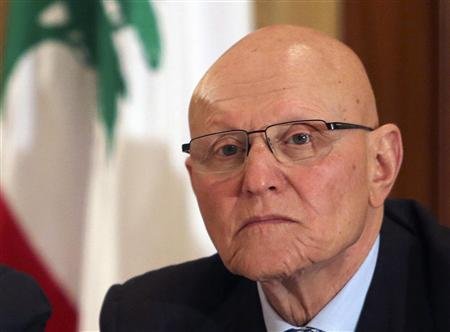 Lebanon Prime Minister Tammam Salam denied claims that he is suppressing some parties in the government, warning them not to challenge him.
"I am practicing my constitutional authorities and I am neither challenging nor quelling anyone," Salam told al-Liwaa daily in a report  published on Friday.
"Yet I won't allow anyone to challenge me or challenge the government," he warned.
Salam reiterated that no party can impose its own stance on others. "The opposition of five ministers does not abolish the support of 18 others who voted on the decree to export" agricultural and industrial products.
The premier told the newspaper that the decision to back the products is "vital and patriotic," and involves all citizens and sects from across Lebanon.
On Thursday, the government approved the decree to allot 21 million dollars to help export the products by sea despite a dispute on the issue because Free Patriotic Movement, Hezbollah and Tashnag Party ministers stressed that no issue should be discussed until the appointments of high-ranking military and security officials were made.
"We had adopted consensus among the ministers as a decision-making mechanism to manage the country's and the people's affairs," said Salam.
"We hadn't adopted paralysis to abolish what remains of the state and the people's hopes," he added.
Asked why he stormed out of the cabinet session on Thursday, Salam said that he left the hall after he adjourned the session based on his constitutional authorities and after he made sure that the decree was approved.
Lebanon's agriculture and industrial sectors plunged in crisis after Jordan closed the Nassib border crossing with Syria earlier this year, making it impossible for the products to be transported by land through trucks to Gulf countries.
In a swift response to Salam's remarks, Change and Reform bloc MP Ibrahim Kanaan said: "We are being challenged and not the PM."
"If they want confrontation then let it be from inside and outside the cabinet," warned the lawmaker in a comment to Voice of Lebanon (100.5) radio.
Aoun warns of explosion
Free Patriotic Movement leader MP Michel Aoun  warned that the rival parties should either resort to "consensus" or the country's political crisis would "explode."
"I clearly say today either consensus or explosion. We are targeted," Aoun told As Safir newspaper in an interview published on Friday.
He said that since his return to Lebanon from exile in Paris ten years ago, some parties are working to eliminate him and trying to put obstacles to the participation of Christians in political decision-making.
Aoun told As Safir that despite his bloc's victory in the parliamentary elections of 2005 and 2009, he hasn't been able to appoint a single judge or officer in the Internal Security Forces.
"I will confront the cabinet … I am fighting to consolidate reform and rights. That's why everyone is mobilizing against me," he said.
Aoun wants his son-in-law Commando Regiment chief Brig. Gen. Chamel Roukoz to be appointed army chief.
Roukoz's tenure ends in October 2015 while the term of army commander Gen. Jean Kahwaji expires at the end of September.
Aoun denied that he had a personal problem with Kahwaji but that he had objections to his performance.
Although the government has so far failed to discuss the appointments, Aoun said the FPM ministers will not resign from the cabinet.
"They will participate through popular means," he told As Safir, without giving details about his plan to object the government's actions.