Greece risks expulsion from euro after rejecting terms of relief funds
Greek Prime Minister Alexis Tsipras' government on Friday once again rejected international creditors' offer to provide billions in relief funds that would allow Athens to make a $1.7 billion payment to the International Monetary Fund — and avoid default — on Tuesday.
For weeks, Tsipras has been reluctant to accept the terms of the offer because they call for a cut in government spending — cuts the prime minister believes would take money from Greek workers' wages and state-funded pensions.
The European Central Bank and IMF have been negotiating with Greece for weeks to reach an agreement, which would release the remaining funds from a $7 billion bailout fund Athens has drawn from in the past. Greece, though, has resisted.
Creditors haven't backed down from their demands for cuts in spending because they say such a reduction is necessary to facilitate economic growth and mitigate future repayment risk. Athens must make a $1.7 billion repayment to the IMF by Tuesday to avoid default, possible bankruptcy and possible exclusion from the euro.
Tsipras, however, has already said multiple times that the Greek government doesn't have the money to fulfill the payment.
Eurozone finance ministers will meet again Saturday to try and reach a solution, but some analysts believe that is unlikely because both sides reportedly remain far apart on the terms of a deal. Officials said Thursday that the weekend negotiations will be the last chance to strike a deal.
Friday, Tsipras said he will recommend voters in his country reject the proposed bailout terms in a July 5 referendum.
Most economic policy makers were surprised by Tsipras' call for a referendum, although he informed German Chancellor Angela Merkel and French President Francois Hollande about the vote beforehand, the Wall Street Journal reported.
If Greece can't reach a deal with creditors, it would become the first developed nation in history to default on the IMF.
Defaulting on the loan, analysts say, might cause the ECB to curtail funding it has provided to Greek banks in recent weeks to keep them operating during the crisis. Account holders in those banks have so far withdrawn tens of billions of euros as the stalemate has escalated.
Tsipras said Friday that, although he opposes creditors' terms, he will respect the outcome of the public's July 5 vote. By then, however, it might be too late, analysts say — because the payment is due by June 30 and it's unlikely those creditors will provide an extension, given Athens' refusals of previous relief offers.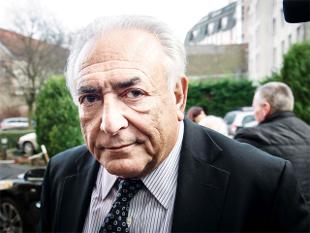 Temporary halt to Greek debt payments
Former IMF chief Dominique Strauss-Kahn broke his silence on the Greek debt crisis on Saturday, calling for Athens' creditors to accept a temporary suspension of payments.
Strauss-Kahn, the disgraced French politician who was felled as IMF leader by a New York chambermaid's accusations of sexual assault in 2011, was head of the international lender at the beginning of the debt crisis.
The former French finance minister made the suggestion in a three-page declaration titled "On learning from one's mistakes", posted on his Twitter page Saturday as Greeceteetered on the brink of default.
"My proposal is the following: Greece should get no more new financing from the EU or the IMF but it should get a generous maturity extension and significant nominal debt reduction from the official sector," Strauss-Kahn wrote.
European countries are still opposed to such a reduction of the debts they are currently owed by Athens.
But Strauss-Kahn argued: "Providing more assistance to simply repay existing official creditors is simply inane."
Strauss-Kahn, who took part in early discussions on the risks associated with Greece's huge debts from 2010, said his proposal would "free Greece from any of its obligations to the official sector in the coming two years".
"Having no access to markets and receiving no new financing from the EU or the IMF it will have to balance its budget alone," Strauss-Kahn said, warning the Greeks would "need to make tough fiscal choices but they would make them on their own".
"To achieve this, the government would have to start collecting taxes and confronting the oligarchy, the vested interests and the deep state that are sapping its formidable potential," he added.
UPI/Economic Times