US senator urges Kerry to suspend talks with Iran, if its leaders keep making demands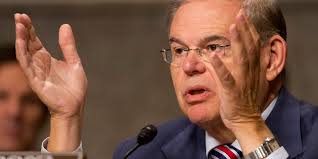 U.S. Sen. Robert Menendez has introduced legislation to extend expiring sanctions on Iran for another 10 years, andurged Secretary of State John Kerry to suspend negotiations if the country's leaders keep making unacceptable demands.
Menendez, who has been skeptical of international talks designed to curb Iran's nuclear program, said the current congressionally imposed sanctions expire next year so a renewal is needed to make sure the penalties can be re-imposed in case Iran violates any agreement.
"Absent renewal we would be unilaterally lifting sanctions on Iran and hence unilaterally disarming," said Menendez (D-N.J.), who introduced the legislation with U.S. Sen. Mark Kirk (R-Ill.). "It stands to reason that if negotiators are serious about snapback, then they should support the immediate extension of the Iran Sanctions Act to ensure there is no question for Iran about the consequences of non-compliance."
At the same time, Menendez wrote Kerry and urged him to suspend the negotiations if Iran continues to make demands such as insisting on an immediate end to sanctions in any deal and refusing to allow ongoing inspections of some nuclear sites.
"Given Iran's past deceptions, the restrictions on Iran's nuclear program must not be lifted until the Iranian regime has demonstrably met their obligations under any prospective deal," Menendez wrote to Kerry. "If Iranian negotiators intend to adhere to the provisions demanded by Ayatollah Khamenei and Iran's parliament, I urge you to suspend the current negotiations with Iran."
Menendez's sponsorship of the sanctions bill is another indication that he has not reduced his involvement in foreign affairs since temporarily stepping down as the ranking Democrat on the Senate Foreign Relations Committee following hisindictment on federal corruption charges. Menendez chaired the committee until the Republicans took control of the Senate in January and was one of the leaders of a successful effort to ensure congressional review of any nuclear deal with Iran.
Under the new bill, the administration would be required to report to Congress on whether any sanctions relief supported terrorism, human rights violation, or nuclear or missile proliferation, or went into the pockets of any senior Iranian official.
The original sanctions legislation was passed in 1996 and extended in five-year intervals since then.
NJ.COM