Putin calls Obama to discuss Iran, Syria and Ukraine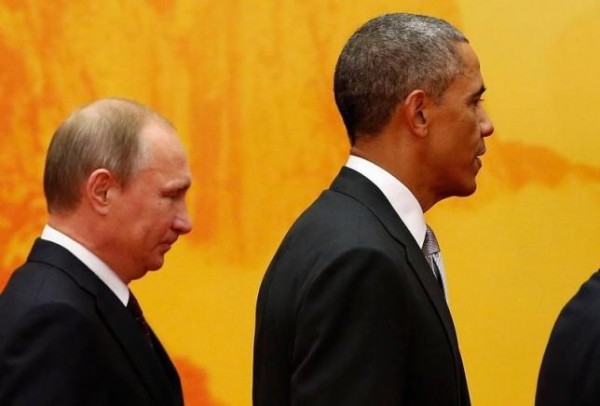 Russian President Vladimir Putin phoned U.S. President Barack Obama on Thursday, their first call since February, to discuss Iran nuclear talks, "the increasingly dangerous situation in Syria" and the need to counter Islamic State militants, the White House said in a statement.
"The leaders discussed the increasingly dangerous situation in Syria, and underscored the importance of continued P5+1 unity in ongoing negotiations to prevent Iran from acquiring a nuclear weapon," the White House said.
The White House said Obama told Putin Russia needs to to live to up to the terms of a ceasefire deal with Ukraine made in Minsk, Belarus, earlier this year, including the removal of troops and equipment from Ukrainian territory. The Kremlin said the two leaders agreed that U.S. Assistant Secretary of State Victoria Nuland and Russian Deputy Foreign Minister Grigory Karasin will discuss implementation of these agreements.
The call came on the same day NATO's supreme allied commander cited a continuous flow of ammunition and other military supplies from Russia across the border to Ukraine.
The Kremlin said the two men devoted "significant attention" to confronting terrorism and the Islamic State in particular and agreed to have Russian Foreign Minister Sergei Lavrov and U.S. Secretary of State John Kerry meet to review the issue.
The call from Putin came just days after the Russian leader spoke with French President Francois Hollande and German Chancellor Angela Merkel about the situation in eastern Ukraine, a day before Paris talks between the foreign ministers of Russia, France, Germany and Ukraine.
France and Germany co-sponsored February's peace deal that helped reduce hostilities between pro-Russia rebels and Ukrainian troops, but fighting again escalated in recent weeks.
REUTERS/AP