Rights groups blast U.N. Security Council response to Syria killings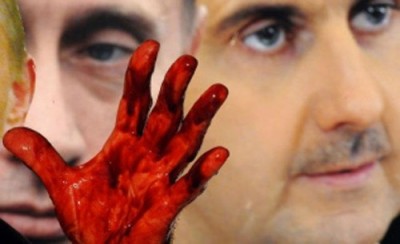 A coalition of some 81 human rights and aid groups blasted the United Nations Security Council on Thursday for a "woefully inadequate" response to the killing of civilians in Syria, and urged it to ensure that those responsible will be punished.
The 15-member council has been largely deadlocked over how to deal with the four-year war in Syria. Syrian ally Russia, backed by China, has vetoed several resolutions threatening action against Syrian President Bashar al-Assad's government.
The coalition, which includes Amnesty International, CARE International, Human Rights Watch, International Rescue Committee and Save the Children, said it was outraged at the unchecked brutality in Syria.
The United Nations says some 220,000 people have been killed in Syria and 12.2 million people need help, including more than 5 million children. About 7.6 million are internally displaced and more than 4 million have fled Syria.
"Expressing 'deep concern' in (council) statements to the press, while Syrians are killed and maimed in attacks which violate International Humanitarian Law day after day, is a woefully inadequate response," the coalition said.
They urged the council to "establish a mechanism to track and publicly expose indiscriminate attacks by any means against civilians, including barrel bombs or car bombs, and to lay down clear consequences for violators."
U.N. Secretary-General Ban Ki-moon has called for urgent council action on Syria amid daily atrocities. His former aid chief Valerie Amos appealed to the council in April to impose an arms embargo and sanctions on violators of humanitarian law.
Last week, more than a third of the 193 U.N. member states, or some 71 countries, wrote to the Security Council urging it to do more stop aerial bombardment by the Syrian air force, particularly the use of barrel bombs.
In February last year, the Security Council demanded that the warring parties cease attacks against civilians, including the use of barrel bombs, which are steel drums full of shrapnel and explosives dropped from the air. It threatened to take further steps in the case of non-compliance.
"Since then the council has stood by as this demand has been repeatedly violated month after month," the aid and rights groups coalition said.
Western officials blame barrel bomb attacks on the Syrian government. Assad has denied his air force uses such devices.
The Security Council is due to hold an informal briefing on Friday, organized by France and Spain, on the indiscriminate use of weapons, including barrel bombs, against civilians in Syria.
A Syrian government crackdown on a pro-democracy movement in 2011 led to an armed uprising. Islamic State militants have taken advantage of the chaos to declare a caliphate in Syria and Iraq.
REUTERS