Hezbollah sabotaged the deal to free the Lebanese hostages, report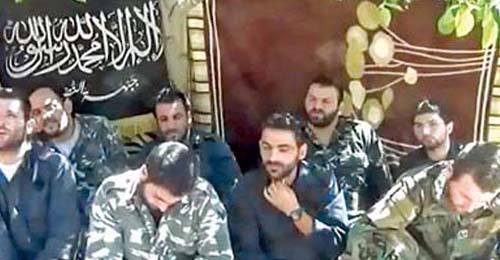 The Lebanese government has failed to approve a deal with jihadists who have taken Lebanese servicemen hostage as a result of pressure by Hezbollah, an official said Thursday according to Asharq al-Awsat newspaper
The official, who was not named, said Hezbollah pressured the cabinet and the so-called crisis cell to reject a deal mediated by Arab and regional countries for al-Nusra Front to release the 16 servicemen it has in its captivity in return for Beirut to set free female detainees and pay a $30 million ransom.
The official also told Asharq al-Awsat that the deal would have been executed in three stages and within seven days.
Al-Nusra Front had been initially demanding the release of 16 Islamist inmates from Roumieh prison in return for setting free the Lebanese soldiers and policemen that it took captive when its fighters overran the northeastern border town of Arsal in August last year.
Islamic State jihadists also took hostages during the attack on Arsal but the negotiations with the group have reached a standstill over their crippling demands.
Al-Nusra's subsequently gave up its demand for the Roumieh inmates and called for the release of female detainees and the payment of ransom, said the official.
But Hezbollah imposed its opinion on the crisis cell that is headed by Prime Minister Tammam Salam out of its conviction that it can liberate the captives militarily, the official told the newspaper.
But a Hezbollah official denied the claim, telling Asharq al-Awsat that the government is in charge of leading the negotiations with the extremists.
The Hezbollah official claimed that the party is in favor of ending the captivity of the servicemen, adding that it backs the efforts made by General Security chief Maj. Gen. Abbas Ibrahim to secure the release of the hostages.
Ibrahim , who is closely associated with Hezbollah is Lebanon's official mediator in charge of dealing with several parties involved in the negotiations process, including an envoy from Qatar.