Iran deal may be in limbo after Khamenei ruled out freezing sensitive nuclear work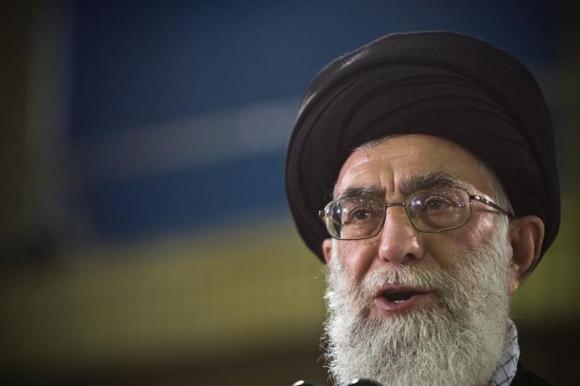 Iran's Supreme Leader Ayatollah Ali Khamenei on Tuesday ruled out freezing sensitive nuclear work in the country for a long time and said sanctions imposed on it should be lifted as soon it reaches a final deal with major powers, state TV reported.
The six – Britain, France, Germany, China, Russia and the United States – want Iran to commit to a verifiable halt of at least 10 years on sensitive nuclear development work as part of a landmark atomic deal they aim to reach by June 30.
They are offering in exchange relief from sanctions that have crippled the oil exporter's economy.
"Freezing Iran's Research and Development (R&D) for a long time like 10 or 12 years is not acceptable," Khamenei said in a speech broadcast live.
Disputes over how much transparency Iran should offer to ease suspicions that it has covertly sought to develop nuclear bombs, and the timing and pace of relief from sanctions imposed on Tehran, have been two major sticking points to the final deal.
"All financial and economic sanctions imposed by the U.N. Security Council, the U.S. Congress or the U.S. government should be lifted immediately when we sign a nuclear agreement," Khamenei said.
The U.N. International Atomic Energy Agency (IAEA) has been trying to investigate Western allegations that Iran has been working on designing a nuclear warhead. Iran says that its nuclear program is peaceful and that it is working with the IAEA to clear up any suspicions.
Khamenei voiced trust in Iran's negotiating team but, echoing hardline Iranian military commanders, also ruled out international access to Iran's military sites.
"Inspection of our military sites is out of the question and is one of our red lines," he said.
U.N. inspectors regularly monitor Iran's declared nuclear facilities, but the IAEA has complained for years of a lack of access to sites, equipment, documents and people relevant to its probe.
In a move that potentially will complicate chances for the final accord with the six powers, Iran's parliament passed a bill on Tuesday banning access for IAEA inspectors to its military sites and scientists.
France has spearheaded the powers' demand that Iran must step up cooperation with the IAEA if it wants to reach a final deal.
A senior French official said on Tuesday that the verification procedures and the authorization to access the military sites were the "main difficulty" to clinch a deal.
"When, where, what, how all this still needs to be made very clear. … There is a difference of view between the (Iranian) negotiators and the leader," the official told Reuters.
Khamenei accused the United States of wanting to wipe out Iran's nuclear industry. "America is after destroying our nuclear industry altogether," he said.
REUTERS