Don't bruise the Druze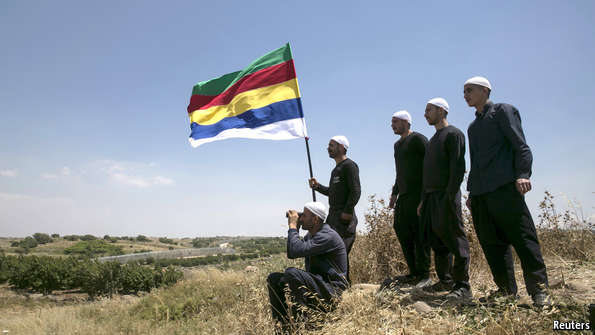 FOR more than four years since the outbreak of the Syrian civil war, Israel has studiously avoided getting sucked in by the fighting on its border. Aside from a number of air strikes on convoys transferring weapons to Hizbullah, a Lebanese militia, the Jewish state has refrained from taking sides. That may be about to change as Israel warns that it will act if Syria's Druze minority is endangered.
More than a million Druze live in the Middle East, about two-thirds of them in Syria with the rest split between Lebanon, Israel and Jordan. The Arabic-speaking Druze, followers of an esoteric religion containing elements of all the monotheistic faiths as well as Greek philosophy, have a complex relationship with the states under which they live. Their code emphasises loyalty to the ruler, along with a strong independent streak. In Syria many of the Druze have remained true to Bashar Assad's regime, whereas in Israel they extol their "covenant of blood" with the Jewish state, which has led most of their men to volunteer for combat units in the Israel Defence Forces (IDF). Many pursue military or police careers that include senior positions in elite army units. The small communities of Druze on the Golan Heights, occupied by Israel since 1967, have mainly chosen to remain Syrian citizens while enthusiastically working in the Israeli tourism industry.
As the remnants of the Syrian army—backed by Iran and its Lebanese ally, Hizbullah—have lost ground, Islamic State (IS) has drawn near the main Druze population on the Jebel Druze mountain range. (Elsewhere IS has lost ground to Kurdish forces, including a key border crossing and supply route at Tel Abyad on Syria's border with Turkey.) Druze villages on the Syrian part of the Golan have also been coming under fire from rebel groups including Jabhat al-Nusra, an affiliate of al-Qaeda. These threats are fraying the Druze's traditional loyalty to the government, and they have appealed to their cousins in Israel for help.
An Israeli deputy minister, Ayoob Kara, himself a Druze, says that "for the first time Syrian Druze have been making direct contact." Officially Israeli policy remains strictly non-interventionist but the government has discreetly promised the local Druze leaders that it will not stand aside if their Syrian brothers come under attack.
On June 16th the normally taciturn IDF chief of staff, Lieutenant-General Gadi Eizenkot, said that "Israel will prevent a massacre of refugees on its border with Syria." The next day, as rebels advanced on the Syrian Druze village of Hader, just a mile from the border, Binyamin Netanyahu, the prime minister, said Israel was "closely monitoring" the Druze situation and had ordered "all necessary measures". The army's plans may include setting up an emergency field hospital in no-man's-land on the border. And if thousands of Druze refugees stream towards the frontier, Israel may be the first of Syria's neighbours to establish a buffer-zone with it.
The Economist