Lebanon needs a president, says PM Salam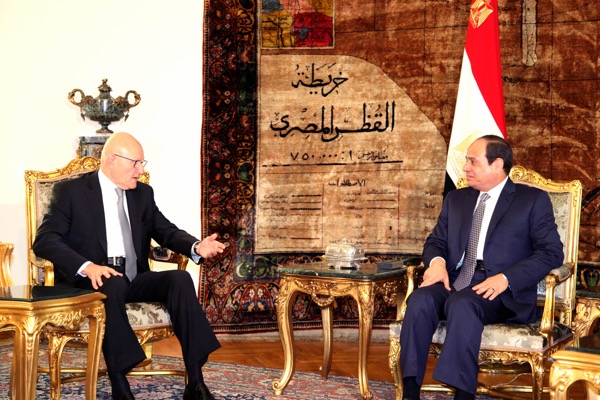 Lebanon Prime Minister Tammam Salam slammed  onWednesday  Parliament's repeated failure   to elect a president for more than a year, warning that a country without a head would not endure.
Following  a one-day official visit to Cairo during which he held talks with Egyptian President Abdel-Fattah al-Sisi and Prime Minister Ibrahim Mahlab, Salam said the election of a president would bolster Lebanon's immunity against security challenges the country is facing as a result of the 4-year-old war in Syria.
"With our democratic system in Lebanon, there is room for differences. Sometimes, this room reaches the level  of obstruction. This is not comforting or useful" Salam told a joint press conference with Mahlab in Cairo.
"All parties must realize that a country without a head will not endure. There is a coalition government trying today to temporarily fill the [presidential] vacuum. But we always insist on the call for the election [of a president] so that Lebanon can complete its immunity and strength," said Salam .
Salam's talks with Sisi covered developments in the region, including the war in Syria and helping Lebanon cope with its repercussions, particularly the presence of more than a million Syrian refugees, the state-run National News Agency reported.
During the meeting with Salam, which was also attended by Mahlab, Sisi stressed Egypt's position which supported a political solution to the Syrian crisis with priority to preserving the Syrian state, the NNA said.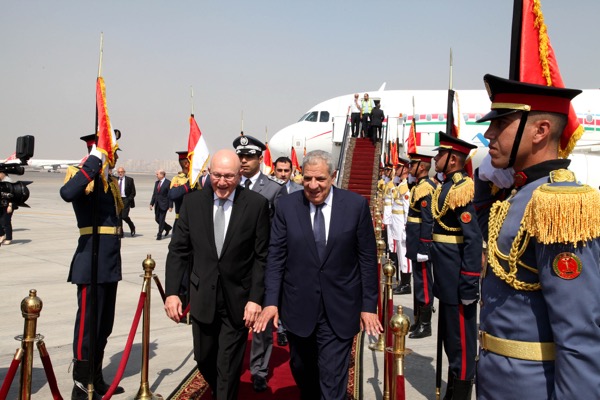 It added that the talks also touched on the Lebanese presidential election crisis, with Sisi restating the Egyptian position that calls for the election of a president as soon as possible to achieve stability in Lebanon.
Salam and Sisi also discussed the issue of terrorism. The Egyptian president stressed the need for supporting Lebanon and its army in its war against terrorism and reiterated Cairo's position, which called for forging an Arab strategy to fight terror and halt arms supplies and money to terrorist organizations, the NNA said.
"The issue of terrorism is our main concern. We are working on a long-term objective to encourage moderation in our amidst, our peoples, our faith and our actions in order to be able to fight extremism and terrorism," Salam said. He added that he discussed with Mahlab cooperation between the two countries in tourism, agriculture and energy.
Salam, who was accompanied by the of tourism, agriculture and energy and water ministers, also met with the Grand Imam of Al-Azhar Mohammad Ahmad al-Tayeb, after which Salam praised the latter for his moderate religious speech in light of the rise of extremism in the region. He also held talks with Arab League chief Nabil Elaraby.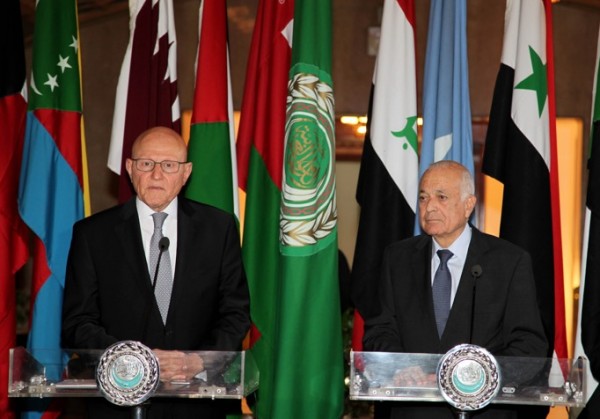 Earlier this month the Lebanese parliament failed  for the 24th time in a row to elect a president to replace Michel Suleiman whose term ended on May 25. As in the past sessions the parliament was unable to reach a quorum because the Iranian- backed Hezbollah militant group and its ally MP Michel Aoun's Change and Reform bloc MPs boycotted the sessions.
Lebanese Forces chief Samir Geagea  who was the first to announce his presidential candidacy blamed Hezbollah for the vacuum at the country's top Christian post, saying the party has been insisting on backing a single candidate, in reference to Aoun, and not making compromises.
According to media reports Lebanon will not get a president before Iran gets its nuclear deal  from the west in June  . The reports indicate that Hezbollah is awaiting a green light from its backer Iran before  it sends its MPS to the parliament .
The reports stressed   that Iran is using Hezbollah and Lebanon's election to put pressure on the west to secure a favorable deal.