Army chief warns that the paralysis of the cabinet harms Lebanon security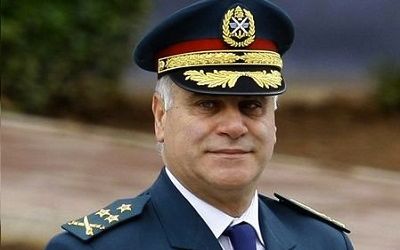 Army Commander General Jean Kahwaji warned Thursday that the paralysis of the cabinet harms the country's security as ministers should continue to endorse decisions to fortify the situation in Lebanon.
His remarks came during a meeting with a delegation from Future Movement parliamentary bloc Wednesday.
He stressed that the situation in the northeastern border town of Arsal is stable, noting that the residents of the town are staunch supporters of the army.
The army chief soothed fears over battles between jihadists and Hezbollah fighters backed by Syrian army troops, saying: "Clashes are on the Syrian side of the outskirts."
"Army units and intelligence information didn't observe any battles on the outskirts adjacent to Arsal yet," sources close to the delegation quoted Kahwaji as saying in comments to al-Mustaqbal newspaper.
He pointed out that the army will continue to conduct patrols in the village and on high alert according to the military estimates.
On Wednesday, Hezbollah chief Hassan Nasrallah declared that al-Nusra Front has suffered a "major defeat" at the hands of his group's fighters in the outskirts of the northeastern border town of Arsal and announced that the long awaited battle against the IS group has started in the border region.
The Future Movement delegation has been meeting with top Lebanese leaders with the aim of rallying political parties against Free Patriotic Movement's decision to paralyze cabinet if security and military appointments failed to take place and to discuss the situation in Arsal.