U.S. strategy in Lebanon stirs fears
The U.S. cut funding for a civil society program in Lebanon that seeks to develop alternative Shiite political voices to Hezbollah, the powerful Iranian-backed militia and political party.
The group that received the U.S. support and critics said that the Obama administration was curtailing its efforts to counter Hezbollah to avoid confronting Shiite Iran, with which it is negotiating to conclude a historic nuclear accord this month.
These people say the funding cut imperils a program that underpinned criticism in Lebanon of Hezbollah's growing role in supporting President Bashar al-Assad in Syria's civil war.
"We are more immediately worried about the message this sends to Shia communities, in Lebanon and the region, about their options for the future," said Lokman Slim, director of Hayya Bina, the organization that lost the funding.
State Department officials denied pulling U.S. support for the development of alternative Shiite voices in Lebanon, saying the program wasn't succeeding in its objectives. They said the administration still funds other programs run by Hayya Bina, including one that teaches English to Lebanese Shiite women.
"The U.S. continues to support groups and individuals who share our goal of a democratic, peaceful, pluralistic, and prosperous Lebanon," said Edgar Vasquez, a State Department spokesman.
But the U.S. move feeds into an alarmed narrative held by many Arab leaders who say that U.S. and Iranian interests appear increasingly aligned—at their expense. Both Washington and Tehran are fighting Islamic State forces in Iraq and Syria, with U.S. conducting airstrikes against the militants, but notably not against Mr. Assad's Iran-backed regime.
Hezbollah, which the U.S. classifies as a terror organization, receives extensive funding and arms from Iran. It has deployed 10,000 soldiers in Syria to back Mr. Assad's forces and counter Islamic State, U.S. officials estimate.
Saudi Arabia's leadership, which supports the exiled leader of Yemen, was concerned when the U.S. last month met secretly with the Iran-backed Houthi rebels there that caused him to flee.
Most significantly, the Obama administration is seeking to conclude a deal with Iran by June 30 to curb its nuclear program in exchange for a lifting of international sanctions.
Some pro-democracy activists in Washington also voiced concern that cutting Hayya Bina's funding will send a message that the U.S. is tacitly accepting Hezbollah in an effort to appease Iran.
"At best, the decision shows poor political judgment," said Firas Maksad, director of Global Policy Advisors, a Washington-based consulting firm focused on the Middle East. "Coming on the heels of an expected deal with Iran, it is bound to generate much speculation about possible ulterior motives."
The U.S. government has continued to pressure Hezbollah financially, including teaming with Saudi Arabia in recent months to jointly sanction some of its leaders. "Disrupting Hezbollah's far-reaching terrorist and military capabilities remains a top priority for the U.S. government," Mr. Vasquez said.
But the Obama administration has also cooperated with Lebanese institutions—including the armed forces and an intelligence agency—that are considered close to Hezbollah and combating Islamic State and Nusra Front, an al Qaeda-affiliated militia in Syria.
The program in question was budgeted to receive $640,000 between June 2013 and December 2015, according to Hayya Bina. The funding was halted this spring, $200,000 short of the total amount, though the group continues to receive a smaller amount of U.S. funding for the other programs, as it has since 2007.
Two years before, in 2005, a popular uprising, sparked by the assassination of former Lebanese Prime Minister Rafiq Hariri, drove Syrian forces out of Lebanon. U.S. officials believed at the time the uprising would weaken Hezbollah and Iran in Lebanon since both were close Assad allies. Instead, Hezbollah strengthened itself politically and militarily, U.S. and Arab officials say.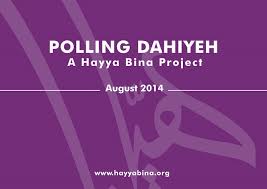 The Hayya Bina program in question was funded through the International Republican Institute, which promotes democracy overseas. It sought to support diverse Shiite voices through workshops, publications and public opinion polling. But in April, the institute notified Hayya Bina that the Obama administration was terminating its support for that program.
The State Department "requests that all activities intended [to] foster an independent moderate Shiite voice be ceased immediately and indefinitely," said the April 10 letter to Mr. Slim, according to a copy seen by The Wall Street Journal. "Hayya Bina…must eliminate funding for any of the above referenced activities."
Mr. Slim and other Hayya Bina officials said the State Department expressed no reservations about their program's effectiveness and that the loss forced them to scramble for new funding.
"As Hayya Bina continues to receive State Department support for other projects, we believe the action taken regarding these objectives reflects reservations over the nature of the programming, rather than our organizational integrity," said Inga Schei, the group's program director.
Hezbollah has voiced growing criticism of Shiite political leaders and organizations in Lebanon opposed to the militia's role in supporting Mr. Assad.
Hezbollah's leader, Secretary-General Hassan Nasrallah, has publicly branded some of his Shiite political opponents as "Shia of the American Embassy," in recent speeches, as well as "traitors" and "idiots."
Mr. Slim said he has been one of those Shiite leaders singled out by Mr. Nasrallah.
"None of us will change our beliefs," Mr. Nasrallah said in a late May speech, according to the pro-Hezbollah newspaper, Al Akhbar. "From now on, we won't remain silent [in the face of criticism]; we will accommodate no one. This is an existential battle."
WSJ