Obama weighs adding hundreds more troops in Iraq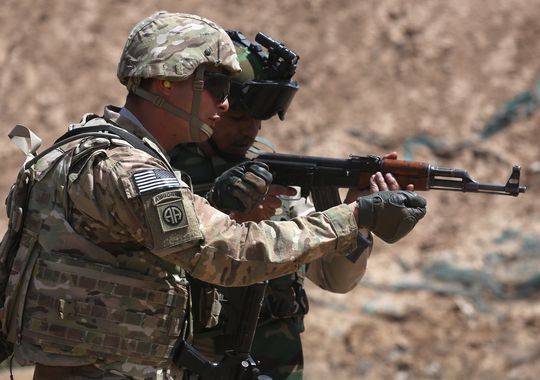 The White House is considering a proposal to send several hundred U.S. military personnel to Iraq to accelerate training of Iraq's forces following a major setback against Islamic State militants, a U.S. official familiar with the plan said Tuesday.
The proposal stops short of a riskier option of placing advisers in the field with Iraqi combat units to help call in more precise airstrikes on the militants by a U.S.-led coalition, according to the official. He did not want to be named because he is not authorized to discuss the proposal publicly.
The Pentagon has said the coalition does not need to deploy the teams in such roles, which would make them more vulnerable to attack. Instead, President Obama, wary of being drawn back into a war in Iraq, has focused on better training of Iraqi forces as the best way to repel the Islamic State's gains.
The addition of hundreds of U.S. personnel would be a significant increase in the U.S. contingent of about 3,000 troops in Iraq, including about 650 trainers. The trainers remain on fortified bases and do not go out on missions with Iraqi combat forces.
No final decision has been made on the proposal to boost trainers, but that could come as early as this week.
About 8,000 Iraqi security forces have been trained by coalition trainers. U.S.-trained Iraqi units were not engaged in combat around Ramadi when the largely Sunni city fell, the Pentagon said.
A key focus going forward will be the recruitment and training of Sunni tribal forces, which played a critical role in helping U.S. troops drive al-Qaeda out of Ramadi and surrounding Anbar province in 2006 and 2007.
"This is part of what helped defeat AQI — the precursor of ISIL — during the Iraq War in 2006," Obama said, using acronyms for al-Qaeda and the Islamic State.