Tech start-ups lead Lebanon out of the rubble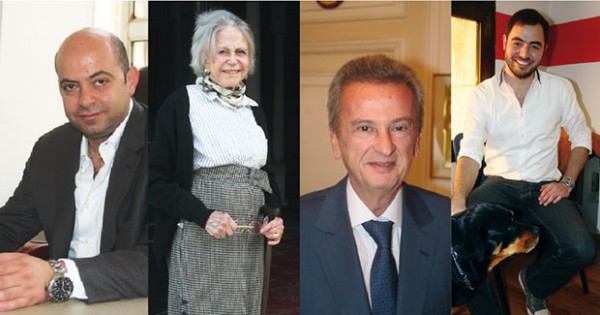 Dynamic young Lebanese entrepreneurs are transforming a country that's been through some very tough times in recent decades.

For millennia, Lebanon has produced brilliant business people. Right back to The Odyssey in which Homer sung frostily of a man 'of Phoenicia, well versed in guile, a greedy knave', the Lebanese have been great traders and deal-makers. In modern times, the huge Lebanese diaspora – thought to number around 16 million, coming from a homeland of a mere four million souls – includes Carlos Slim, the richest man in the world, Carlos Ghosn, the boss of Renault/Nissan, and Jacques Nasser, once boss of Ford now at BHP Billiton. Salma Hayek (who has a Lebanese grandfather) is a renowned businesswoman as well as actress. From fly-blown hamlets in West Africa, via Sydney suburbs to the Brazilian bush, the Lebanese are running businesses all over the planet.
The problem is very few of these Lebanese achieve this success in their homeland. The Lebanese work but Lebanon doesn't. Those with talent and ambition frequently leave. Although the country remains technically at peace, there is currently no functioning government, which makes the governor of the central bank the de facto head of state (a set-up Mario Draghi could be forgiven for hankering after). However, for once what is going on in the rest of the Middle East – Libya, Egypt, Yemen, Syria – makes Lebanon looks stable and pacific. But we shouldn't delude ourselves that the current peace is anything other than fragile. The future of Lebanon is not in Lebanese hands.
For years the thorn in the country's side was its menacing neighbour Syria, which regarded the Lebanese as mere squatters in its backyard. Now Syria's proxy, Hezbollah, which would have a seat at the cabinet table if there was a cabinet, looks almost statesmanlike in its armed resistance compared with the medieval savagery of IS over the border in Syria. There are a million Syrian refugees in Lebanon, but they will not allow official camps because the last time they formalised the presence of large numbers of refugees – the Palestinians – it led to a 15-year civil war between 1975-90. (You don't even mention the word Israel in polite society here. It is referred to as 'Disneyland'.
So what is a mid-20s ex-Cap Gemini strategy consultant, a product of the French Grandes Ecoles system, doing running a digital start-up from a tiny flat above a massage parlour and rug emporium in the Beirut suburb of Hazmieh? Cedric Maalouf hails originally from Zahle in the Bekaa valley and, accompanied by three or four hipster staff plus his rescue Rottweiler Annie, he has launched an Islamic online dating site called et3arraf, which is Arabic for 'to meet.' He is the hottest of a gang of ambitious new start-up creators who have made the city their home.
He got the idea after a break-up with a girlfriend in Paris, which he describes as 'an enriching experience'. 'In an Arab culture where mixing with those of opposite gender is difficult, the internet is the answer,' he says. 'Among the young there is growing pressure to resist arranged marriages. You've seen Fiddler on the Roof. We are the matchmaker.'
They aren't quite ready for Tinder and certainly not Grindr in Riyadh or Doha yet, and online dating can be a dodgy business. 'It's a world filled with scams,' acknowledges one et3arraf colleague. 'Frustrated Arab men are very easy fish to grab. And also any women who post will normally get 50 messages immediately with some not very nice suggestions.' So et3arraf blurs women's pictures, which only become clear once pairs of people get to know each other better.
Being an Arab site, et3arraf also has a special drop-down section dedicated to those guys in search of second and third wives plus those after misyar, an official mistress. Women can post portraits in a hijab or a burka if they wish. Maalouf has around 200,000 users, 60% from Saudi Arabia, and is well into second round funding of $1m.
Like most new-look Lebanese entrepreneurs, he is young, resourceful, internationalist and energetic. They ought to be making home runs every time. The problem of course is that since independence the Lebanese have gone in for fighting each other with the same alacrity as they have for making a fast buck. The sectarian divisions in the small country are stark, much to the dismay of many young people who regard such things as a dismal throwback to a bad past. The one thing everyone agrees on is that the Maronites are especially good at finance, and that the governor of the Central Bank should always be a Maronite Christian. Sunnis, Shia and Druze trust Maronites with very little other than their money.
The current incumbent is Riad Salameh, a 65-year-old ex-Merrill Lynch private banker from Paris. I meet him in his office where he has a large Havana cigar on the go, which he puts down to have his photo taken. 'We are a nation of poor people.' Salameh answered the call of the nation to come home and keep the show on the road in 1993. 'I made allowances for the very limited salary that came with the job,' he notes. 'That shows how I feel about Lebanon.'
'We are in an interesting position,' he says, 'We are not normal. We currently have a financial sector that is three times the size of our GDP. (After the example of pre-crash Iceland, this would normally set off alarm bells but not here.) Our economic base is people. Twenty per cent of our GDP is remittances from abroad. However, we are cautious and do not like systemic risk.' Salameh likes his money straightforward and regarded the mad pre-2008 world of structured products and complex derivatives with deep suspicion. He has been rewarded – despite the turmoil next door in Syria – with 2% growth, a stable currency that is pegged to the dollar and foreign reserves of $38bn. In February he got away $800m of 10 year bonds and $1.4bn of 15-year bonds with a relative ease that would make the Greeks very jealous.
Lebanese banks are something else. Renowned for their solidity and with a discretion that was once only matched by the Swiss, Bank Audi is a good example. With its origins in 1830s Sidon, Audi is still part family owned, has a $42bn asset base and 40% of its business outside Lebanon. It bought the National Bank of Sudan and is getting stuck into Turkey. 'We like being involved in boring banking,' chief economist Marwan Barakat told me. 'The world since 2009 has shown the value of this.' And he offers 5.5% on a Lebanese pound current account at the moment; 3% if you have dollars to deposit.
MT was invited to Beirut by UK Trade and Investment, the joint venture between the Foreign Office and Department of Business, which seeks to get us to export and others to invest in us. The British ambassador in Beirut, Tom Fletcher, is very big on UKTI and the most forward-looking of His Excellencies. He couldn't be more different from the sort of louche types you might have run across at the embassy in the 1960s, such as cynical traitor Kim Philby, who was caught in and escaped from the Lebanese capital. Fletcher, who was a foreign policy adviser to both Gordon Brown and David Cameron, could have chosen almost any high-level posting he wanted. He chose Lebanon. He has 44,000 Twitter followers and is a celebrated figure, appearing at rallies and spurring the young on. It is to our loss that he is soon leaving.
This is the sort of soft power that we should definitely be exercising with what is left of the Foreign Office budget. Not pontificating about geopolitical events or putting boots on the ground in the Middle East, but rolling our sleeves up and getting involved in economic development. Making friends and influencing people. But what's in it for us? What is the real scale of British opportunity in Lebanon?
'I think huge,' says Fletcher. 'Lebanon itself is not a big export market, though we do a lot of business here. The key is Lebanon's networks – immensely powerful in a century that is all about networks. So Lebanon is the perfect hub for businesses seeking a foothold in West Africa, or South America. And the kind of collaboration we're aiming for is more instability-proof than most – it only needs an internet connection, ingenuity and vision.'
The UKTI programme is masterminded by Colm Reilly, an energetic partner at PA Consulting. When sceptics moan about HMG's money being spent on consultants, they should be introduced to Reilly and his works. He is the most acceptable of the faces of government outsourcing. Reilly has set up the UK Lebanon Tech Hub in Beirut, a sort of digital get-together venue for young businesses. Lebanese banks now get promising tax breaks for investing in start-ups.
Reilly is assisted by some equally fizzy and talented youngsters he picked up from the UK embassy. It really brings one up short when one of them, Omar Chatah, the accelerator manager – Columbia, Boooz, Citigroup in London, Bay Area start-up – says by way of introduction: 'Er, my father was minister of finance and an ex-director of the IMF and ambassador to the US. He was assassinated in 2013. I came back. We switched places.'
Over a packed three days, MT was introduced to dozens of young Lebanese start-ups. All right in your face, brimful of confidence and thrusting business cards. Everything from clever HR apps to stop staff using too much data on company mobiles to businesses cladding buildings in eco-foliage. I even met one guy convinced he could set up Lebanon's equivalent to Moneysupermarket.com, doing online insurance broking and loans in a country where credit rating agencies don't even exist. Good luck to him.
Some of them even work. Take Shahiya.com, an Arabic recipe site, established in 2010, which received around $500,000 in VC funding in 2012 and was sold late last year to the Japanese giant Cookpad for $13.5m. It has three million users a month, is massive in Saudi Arabia and 90% of its visitors are female.
Up the coast in Tripoli is another mature business, Mobinets, run by Labib Shalak. Mobinets started life in a north London garage in 2003. Shalak, 42, is a friend of the Sudanese mobile phone billionaire Mo Ibrahim. 'Do you know the funny thing is telecoms and IT have not been good bedfellows,' he says. 'We wanted to help mobile phone networks work more efficiently. It took me seven years to develop our data model. But it's very good now.' Mobinets uses its smarts to assist mobile network operators in the design, cost optimisation and operation of their networks.
Shalak has a big contract with one of the UK mobile companies but declines to say which. He is a classic Lebanese entrepreneur – one day in Morocco, the next in Moldova. Shalak came within a whisker of winning a massive contract in sub-Saharan Africa but fell foul of the politics and back-handers. He shrugs his shoulders. 'Setbacks don't break you. They really do make you stronger … Now Nigeria. That would be the jewel for us.' He'd love to IPO in New York or London in due course. But in the meantime he's visiting Kenya, Myanmar, Ukraine selling his services. And why is he here? 'Well, I can get good software engineers for $1,000 per month that would cost $4,000 in Europe or the States.' And he is pleased his young family are being brought up as Lebanese.
What is it about the Lebanese that gives them such applied drive? The simple answer is adversity. Down the road from mobinets, Shia and Sunni gangs of unemployed boys regularly kick off with automatic weapons and rocket propelled grenades. The money comes from Saudi Arabia and Iran. But people get on with it. Another of Lebanon's successful children, the gnomic Nassim Taleb, author of The Black Swan, said the following of his homeland 'The idea is that in a natural setting, anything natural, anything organic, anything biological, up to a point, reacts a lot better to stressors than without… A little bit of adversity results in a little bit more performance in anything.'
The stressors for Lebanese business are varied. Power is intermittent and unreliable. Every business of any size has to have a generator in the basement and recently two huge power-producing diesel barges were dragged down from Turkey, which are moored just off shore to try to supplement the inadequate output of the country's two power stations.
The broadband is not good. Although fibre-optic cable is laid in much of Beirut, wranglings between sectarian factions trying to protect earnings from their mobile phone companies has prevented it being turned on. The infrastructure is appalling. There is no public transport. The car driving makes Italian male hotheads look like vicars' daughters in an Austin Metro. And yet the place has remarkable energy. They get things done.
Someone who has hung on through good and desperate times is Lady Yvonne Cochrane Sursock. Her house, built by Italian architects in the mid-19th century, is one of the most beautiful left in Beirut. Filled with Roman glass, Ottoman carpets and Renaissance art, it was bombarded by the Palestinians in 1975, the Syrians in 1976 and she got stuck on the wrong side of the Green Line. One panelled room was blown to pieces by a phosphorus shell – 'When I came back the whole place looked like a surrealistic picture.' Her husband's collection of 15th-century Chinese bowls had been smashed. None of the shells took out the load-bearing pillars as most went down the main passage – past the School of Canaletto masterpiece – into the dining room and out into the garden. 'Ruined my borders,' she told one reporter, 'Holes everywhere.'
Now 93, she is currently hosting a family of Syrian refugees. Those who assume she is a Maronite are wide of the mark. Her father was Greek Orthodox whose ancestors had left Constantinople when it fell in 1453. The name Sursock is a corruption of Kyrie Isaac, Lord Isaac. Her mother was an Italian toff. An hour in her company is a delight enlivened by saucy tales of HRH Princess Margaret, who once put a tomato down Lady Cochrane's son's shirt and squashed it. Such larks.
Beirut isn't what is was. But at least it's still going. She disapproves heartily of the Dubai bling that has replaced the gorgeous Ottoman garden-city style in downtown Beirut. She still campaigns for the protection of Beirut's antiquities. And she's not going anywhere. The earliest evidence of civilisation in her country dates back 7,000 years. One can only wish it a civilized future.
Management Today ( MT)